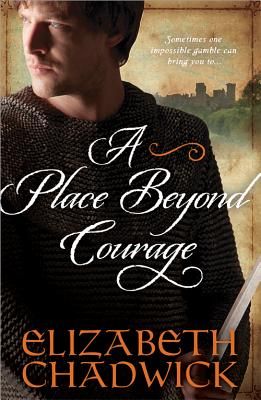 A Place Beyond Courage by Elizabeth Chadwick
Published by Sourcebooks Landmark, an imprint of Sourcebooks
Elizabeth Chadwick is perhaps best known for her historical fiction featuring William Marshal. In his A Place Beyond Courage, she returns to his family in order to tell the story of his infamous father, John FitzGilbert.
As the marshal of King Henry I of England, John FitzGilbert knows the court well, and he knows how hollow the vows to support Henry's daughter Matilda as heir are. God willing the king has many years to live, but Matilda and her estranged husband Geoffrey, Count of Anjou have no children and no immediate prospects for one as they refuse to even live together. As such, and because it is doubtful that the men of 12th century England will ever really accept a woman on the throne, the succession of the country is in question should anything happen to Henry. And, all too soon, something does happen to Henry. A batch of bad fish, possibly murder, and suddenly the country is in an uproar. Henry's nephew Stephen seizes the crown, while Matilda, who by then had three very young sons by her husband, challenged from Normandy.
For John FitzGilbert, life at home is no more peaceful than political life. His wife, Aline, is meek and biddable, but she is also fearful and overly pious, to extents that annoy John terribly. They are quite horrible mismatched and their marriage is not a happy one for either of them.
John FitzGilbert and his famous "hammer and anvils" speech make an appearance in Chadwick's novels on the lives of William Marshal, John's fourth son, so having the opportunity to delve deeper into his psyche and discover how he became a man who would say such a thing about his son. By the  time we got to that point in his life, it was completely understandable how and why he could do something that was seemingly so uncaring. It seemed initially that he would be an unsympathetic character, but the more I read, the more I understood him.
The only thing I disliked about A Place Beyond Courage is the way that John's wives were characterized. Aline is obviously not meant to be a sympathetic character: she is cold in bed, spends too much time and money on the church, and is unable to satisfactorily order her household. If she was more sympathetic, it would be difficult to like John with how he sometimes treats her. Still, at times it seems that Chadwick goes too far in trying to make her weak and unwomanly, because I was all too aware of how I was not meant to like her. His second wife and William's mother, in comparison, is young, lovely, and beyond competent.
Despite some manipulative characterizations, I did very much enjoy A Place Beyond Courage. It is a good look at the civil war between Stephen and Matilda for the future of the English throne and John FitzGilbert is a fascinating character, if somewhat less sympathetic than his famous son.
Buy this book from:
Powells | Indiebound*
Source: Publisher.
* These links are all affiliate links. If you buy your book here I'll make a very small amount of money that goes towards hosting, giveaways, etc.
Copyright protected by Digiprove © 2012