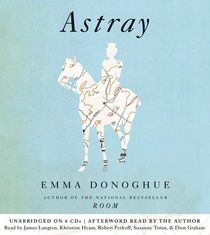 Astray by Emma Donoghue, narrated by Kristine Hvam, James Langton, Robert Petkoff, Suzanne Toren, and Dion Graham
Published in audio by Hachette Audio, published in print by Little, Brown and Company, both imprints of Hachette
Synopsis:
None of  the characters in Emma Donoghue's Astray are homebodies. Perhaps some of them would like to be, but they are all being propelled in different directions, moving to, from, and throughout the U.S. and Canada.
Thoughts on the story:
It isn't every author who can pull off a collection of stories that begins with a piece in the second person addressed to an elephant, but Emma Donoghue rocks it. Astray opens with a story about Jumbo the elephant's sale to P.T. Barnum, from the perspective of his keeper. The characters in the rest of Donoghue's stories are all human, but by opening with a story about an elephant she signals just how diverse the rest of her stories will be. Indeed, the genders, nationalities, and situations throughout the rest of Astray are exceptionally varied. There are Yukon gold miners, an American slave, a young middle class British woman forced to support her brother and child through prostitution.
Each of these stories actually has a basis in the historical record. After every account Donoghue explains the inspiration behind the story, where it came from and the facts behind what she wrote. The stories vary greatly in length, but besides the general subject matter, the one thing that all of the stories have in common is the fact that they are all incredibly compelling. Of course different situations will appeal more or less to different readers, but all of the stories are well-researched, well-told, and based on fascinating true stories.
Thoughts on the audio production:
The casting of Astray is just perfect. First of all, five absolutely fabulous narrators were chosen. All five have the ability to help the listener get lost in whatever story they are telling. Second of all, the pairing of narrators and stories is perfect; never once did I feel that a narrator didn't fit a given story. I really appreciate that Hachette Audio decided to go big with five narrators. They could have simply had a male and a female, or even just had a single narrator, but they seem to have been determined to find the absolute best narrator for each story. Dion Graham, to the best of my recollection, only narrated a single story in Astray – and a short one at that. Robert Petkoff certainly could have narrated that story, even though he didn't quite fit casting-wise. However, a decision was made to bring in a narrator who was a better fit, even if he would only be used for that one brief story. It is attention to detail like this that takes Astray from a good production to one that is really top-notch.
Overall:
Big thumbs up all around. The collection is wonderful and the narration equally fantastic. Do yourself a favor here and pick this up in either print or audio.
For more please see my review for Audiofile Magazine.
Buy this book from:
Powells: Audio/Print*
Indiebound: Audio/Print*
Sound Bytes is a meme that occurs every Friday! I encourage you to review your audiobooks on Fridays and include the link here. If you have reviewed an audiobook earlier in the week, please feel free to link that review as well. Thanks to Pam for creating the button.
Source: Audiofile Magazine.
* These links are all affiliate links. If you buy your book here I'll make a very small amount of money that goes towards hosting, giveaways, etc.
Copyright protected by Digiprove © 2012