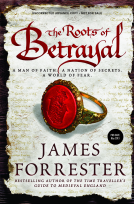 I had a lot of fun reading James Forrester's first novel, Sacred Treason. Forrester is the pen name of Dr. Ian Mortimer, a historian whose nonfiction The Time Traveler's Guide to Medieval England I also very much enjoyed. Well, Mortimer-as-Forrester is back with a second book in the Sacred Treason series: The Roots of Betrayal. Here's the publisher's description of The Roots of Betrayal:
Catholic herald William Harley, Clarenceux King of Arms, is the custodian of a highly dangerous document. When it is stolen, Clarenceux enters a nightmare of suspicion, deception, and conspiracy. As England teeters on the brink of a bloody conflict, Clarenceux knows the fate of his country and countless lives will be determined by his actions. The roots of betrayal are deep and shocking, and Clarenceux's journey towards the truth entails not just the discovery of clues and signs, but also of himself.
I have one copy of The Roots of Betrayal to give away to a reader with a US or Canadian mailing address. Simply sign up on the form below by 11:59 pm on Thursday, May 9th.
Copyright protected by Digiprove © 2013