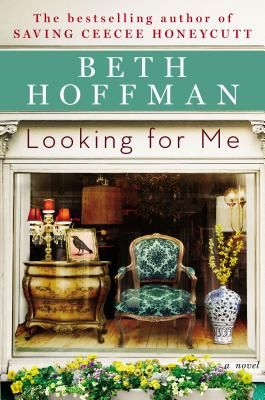 Way back in 2010, I was having a terrible day, and then I read Beth Hoffman's debut book, Saving CeeCee Honeycutt. It was so sweet and lovely that it absolutely turned my day right around. Now Hoffman has a second book, Looking for Me, coming out Tuesday May 28th and she has generously supplied me with a copy to give away to one of you readers with a US mailing address. Check out the description below:
From the publisher:
Teddi Overman found her life's passion for furniture in a broken-down chair left on the side of the road in rural Kentucky. She learns to turn other people's castoffs into beautifully restored antiques, and eventually finds a way to open her own shop in Charleston. There, Teddi builds a life for herself as unexpected and quirky as the customers who visit her shop. Though Teddi is surrounded by remarkable friends and finds love in the most surprising way, nothing can alleviate the haunting uncertainty she's felt in the years since her brother Josh's mysterious disappearance. When signs emerge that Josh might still be alive, Teddi is drawn home to Kentucky. It's a journey that could help her come to terms with her shattered family—and to find herself at last. But first she must decide what to let go of and what to keep.
To enter, please fill out the form below by 11:59 pm on Friday, May 31st.
Copyright protected by Digiprove © 2013