My typical excuse for not reading much lately is that I'm trying to catch up on writing, which often means mostly staring at my computer and clicking between what I'm attempting to write and Twitter. This week, though, I actually did it. I finished every task I meant to get to, and scheduled all my previously unwritten reviews. Getting all those reviews out of my draft box (and having so much already scheduled) makes me feel as though I've lost 10 pounds, it is so refreshing. Added to that, I currently only have one freelance article that needs to be written (although more will be coming soon), so I have a sense of freedom to read – even if half of what I need to read is manuscripts, rather than books for the blog. Of course, it is entirely possible that next week I'll have another excuse, but I sincerely hope not, because right now I'm in the middle of Above All Things by Tanis Rideout and I'm dying for some quality time to spend with it.
Here's what I finished this week: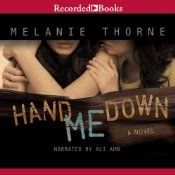 And what I reviewed:
Ta-ta, off to read!
Copyright protected by Digiprove © 2013