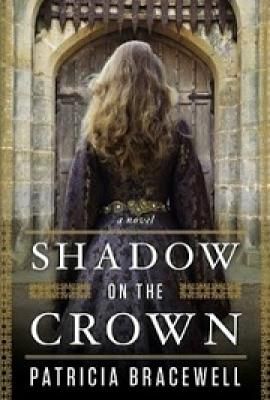 Shadow on the Crown by Patricia Bracewell
Published by Viking Books, an imprint of Penguin
In the early years of the 11th century, King Athelred of England loses his long suffering wife in childbirth. If it were up to him, Athelred would decline to marry again, for fear of creating tension between the children of two separate wives. There are political concerns he must attend to, however, the most pressing of which are the repeated raids by Danish Vikings upon English seaside towns. The most logical choice seems to be to marry one of the sisters of the Duke of Normandy, they are the children of a Danish mother and the Vikings often make use of the ports and markets of Normandy. Athelred believes that the Duke of Normandy may have influence over the Viking King and that, by marrying one of his sisters, he can protect England.
Enter fifteen year-old Emma of Normandy. Emma has great strength of character – at least greater than her sister, who is also in poor health. She is sent by her brother to be Athelred's queen and wife, as well as a virtual hostage for the good behavior of Normandy and the Vikings. Athelred is not a particularly loving man, particularly as Emma's status as Queen – a status his first wife did not hold – dredges up guilt-laden memories of his own childhood, memories that cause him to act with particular hostility towards him.
Can I just say how excited I am to have a work of historical fiction set in 11th century England? In the past few years authors have branched out from the Tudors, but the majority of works do not venture earlier than Henry II and Eleanor of Aquitaine, so to learn about Athelred and Emma was absolutely thrilling for me. Pre-Norman Christian England is just a totally novel setting for me, and Bracewell does not disappoint. Emma is a woman absolutely worth novelization and she and her rival Elgiva are both absolutely fascinating characters. Shadow on the Crown is the first book in a series and, although Bracewell wrote it so that apart from some minor foreshadowing it stands alone very well, I cannot wait to see how the lives of these characters develop. I am unsure how long Emma lived, but I am hopeful that by following the arc of her life over the course of these novels I can gain some insight into what happened in English history to lead to the Norman invasion of 1066 (you know, since she was the sister of the Duke of Normandy and all).
One note: Shadow on the Crown has more than its fair share of misogyny and violence against women. I have this picture in my mind (based on basically nothing at all, I admit) of pre-Norman England as being quite the violent and uncivilized place, so I personally found it entirely believable. It was also used as a method of characterization for characters who are, at best, unsavory. Yes, the instances of violence made me cringe, but I considered them and decided that they worked for me in this specific instance (particularly as they are not glorified). However, this is definitely a case of your mileage may vary, as I know at least one person for whom this ended up being a deal breaker, in regards to her enjoyment of Shadow on the Crown.
Overall a very enjoyable book about a seriously underrepresented time period. Recommended.
Buy this book from:
Powells | Indiebound*
Source: Publisher.
* These links are all affiliate links. If you buy your book here I'll make a very small amount of money that goes towards hosting, giveaways, etc.
Copyright protected by Digiprove © 2013