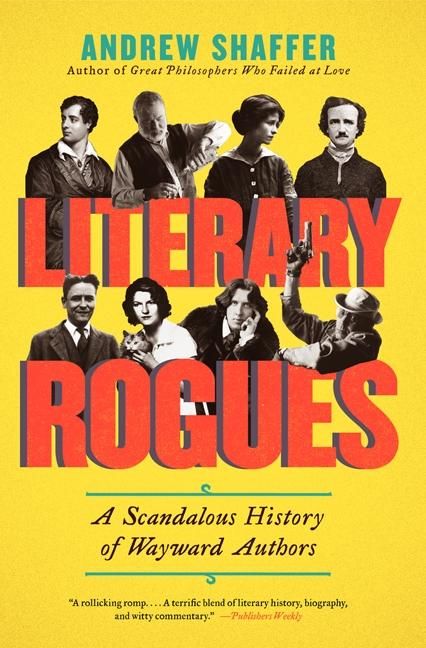 Literary Rogues: A Scandalous History of Wayward Authors by Andrew Shaffer
Published by Harper Perennial, an imprint of HarperCollins
From the Marquis de Sade to Edgar Allan Poe to Bret Easton Ellis, there are, in the history of authors, some seriously screwed up individuals. In Literary Rogues, Shaffer details the lives and debaucheries of more than thirty, as the title says, wayward authors. As might be expected, there is a whole lot of sex, drugs, and alcohol herein, but somehow Shaffer manages to keep all of the authors from running together.
Shaffer does not divide up the lives of his subjects here as clearly as he does in Great Philosophers Who Fail at Love. In Great Philosophers, Shaffer gives each philosopher a separate chapter, even when they are interrelated. In Literary Rogues, on the other hand, writers who were friends, lovers, and compatriots frequently occupy chapters together, the narrative even drifts occasionally between two authors as the history warrants it.
What is particularly impressive about Literary Rogues is that Shaffer does not simply stick to the bad boys (and girls) of 20th century literature. Whole books could be (and indeed have been) written about Hemingway or the Fitzgeralds, but Shaffer begins all the way back in the 18th century with the Marquis de Sade and doesn't stop until he comes to James Frey, drug addict and pseudo-memoirist extraordinaire.
Because many authors have similar vices, Literary Rogues might be best enjoyed in bits and pieces, a chapter here, a chapter there so as not to get bogged down in all the alcohol-induced deaths. Still, this is a fascinating account of some of the best-known writers of the later-day Western canon.
Buy this book from:
Powells | Indiebound*
Source: Publisher.
* These links are all affiliate links. If you buy your book here I'll make a very small amount of money that goes towards hosting, giveaways, etc.
ucy Arlington
Copyright protected by Digiprove © 2013