Do you remember D.E.A.R? At my elementary school that meant "Drop Everything And Read," something we typically did for 10 or 15 minutes every day. Best part of my day, really. As my TBR and Library piles are battling for supremacy and trying to sneak in around the review copies who have staked out places on my calendar, I'm thinking back to the simpler days of D.E.A.R., when I believed I had time to get to any book I wanted. And that, of course, got me fantasizing about a world where I really could just Drop Everything And Read for more than just 15 minutes a day or, in the case of my audiobooks Do Everything and Listen.
So, one thing I've noticed about working from home with three children under 4 around is that I have less time to devote to audiobooks. Shocking, I know. I used to have a least an hour in the car every day, most of it alone. I do listen some of the time when I feed babies and often when I do housework if everyone is occupied or sleeping. Of course, cleaning competes with reading and writing during those times, so it is a bit less time for everything all around. As a result, I'm getting ever farther behind on audiobooks to which I'm dying to listen. When it is audio time, audios for freelance review and an upcoming project come first. These audios I have received for review, though, are just about burning a hole in my ipod, so much do I want to listen. Here are the ones which are proving most enticing (links go the the publishers' pages, where you can listen to samples):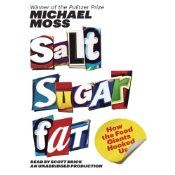 Jungleland: A Mysterious Lost City, a WWII Spy, and a True Story of Deadly Adventure by Christopher S. Stewart, narrated by Jef Brick (Harper Audio 1/8)
Truth in Advertising: A Novel by John Kenney, narrated by Robert Petkoff (Simon and Schuster Audio 1/22)
Salt Sugar Fat: How the Food Giants Hooked Us by Michael Moss, narrated by Scott Brick (Random House Audio 2/26)
What audiobooks are you particularly excited to listen to?
Sound Bytes is a meme that occurs every Friday! I encourage you to review your audiobooks on Fridays and include the link here. If you have reviewed an audiobook earlier in the week, please feel free to link that review as well. Thanks to Pam for creating the button.

Copyright protected by Digiprove © 2013