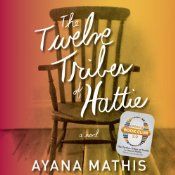 The Twelve Tribes of Hattie by Ayana Mathis, narrated by Adenrele Ojo, Bahni Turpin, and Adam Lazarre-White
Published in audio by Random House Audio; published in print by Knopf, both imprints of Random House

Synopsis:
When 15 year old Hattie leaves Georgia for Philadelphia in 1923, she's looking for a better life in the North. What she finds instead is a life that will bring her sadness, sorrow, and oh-so-many children. Over the next half century, each of Hattie's children will be affected by the sorrow she finds, and the bad choices she makes. Some will be able to move on, others will find themselves irrevocably damaged by the the love they wish they had had from their mother.
Thoughts on the story:
Oh man, Ayana Mathis brings the sorrow immediately with the death of Hattie's first children, young twins. Twins! I almost had to abandon it right there because Mathis tells of Hattie's loss in a way that is raw and real and it was twins and I very nearly couldn't handle it. I'm glad I did, though, and before long I understood why Mathis had to start with something so difficult, because the loss of Hattie's babies informs everything else that happens throughout the novel.
Actually, about that. Some readers might find The Twelve Tribes of Hattie more satisfying if they think of it as a collection of highly linked and chronological stories instead of as a novel. Each section of the book focuses on a different of Hattie's children and the real cohesion comes in the form of an understanding of their family dynamics. Some threads of storyline are woven throughout of many or all of the pieces, but this is not a traditional narrative. Once I stopped expecting the traditional narrative I thoroughly enjoyed the way Mathis told this family's story. By touching lightly on each of the children, she actually gave a much more complete look at their lives than she would have if she had simply told the entire story from Hattie's point of view and simply mentioned each of her children briefly.
Thoughts on the audio production:
I chose to listen to The Twelve Tribes of Hattie instead of reading it because of Bahni Turpin and Adam Lazarre-White, both of whom I've thoroughly enjoyed in the past. Although both of them did a wonderful job, I am not entirely sure why they were brought in.  I assumed that Lazarre-White would narrate for all of Hattie's male children, but he did not, Ojo narrated the vast majority of the book, including more than one section from a man's point of view. I also imagined that Turpin would narrate a fair number of Hattie's female children, but her part was very minor as well. I very much enjoyed their performances, but it did distract me slightly trying to figure out the logic behind it. Ojo was a new-to-me narrator and was, by and large, very good. I did find she was occasionally a bit too halting, but for the most part I really enjoyed the audio production.
Overall:
I can see why Oprah picked The Twelve Tribes of Hattie as the first book for her reboot of her book club. It is an interesting and worthwhile story, and I definitely enjoyed it in audio. Recommended.
Buy this book from:
Powells: Audio/Print*
Indiebound: Audio/Print*
Sound Bytes is a meme that occurs every Friday! I encourage you to review your audiobooks on Fridays and include the link here. If you have reviewed an audiobook earlier in the week, please feel free to link that review as well. Thanks to Pam for creating the button.
Source: Publisher.
* These links are all affiliate links. If you buy your book here I'll make a very small amount of money that goes towards hosting, giveaways, etc.
Copyright protected by Digiprove © 2013