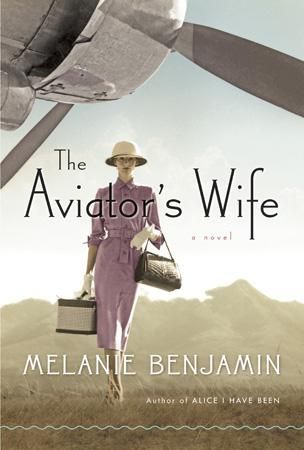 The Aviator's Wife by Melanie Benjamin
Published by Delacorte Press, an imprint of Random House

Charles Lindbergh made the first solo flight across the Atlantic. Charles Lindbergh associated at one point with Nazi Germany. The Lindbergh baby was kidnapped. Charles, Charles, the Lindberghs. It is Charles who is in the history books, time and time again. His wife, Anne, is often little more than a footnote, and then only in the discussion of the kidnapping, but Anne Morrow Lindbergh is a fascinating woman in her own right.  Daughter of the U.S. Ambassador to Mexico, she is a shy and literary-minded college senior when she meets Colonel Charles Lindbergh. Over the next few years, Anne and Charles embark on whirlwind life together, with Anne becoming the first licensed female glider pilot in the United States. Despite her significant accomplishments, Anne remains squarely in her husband's shadow.
More than just a fictional biography, The Aviator's Wife is the story of a woman finding herself and finding her voice. Benjamin fully subsumes the reader in Anne's psyche. Anne's head isn't always a comfortable place to be in the early and middle years of her marriage to Charles, as she struggles to keep her own identity as she orbits her insanely famous husband. Still, Anne was a real woman, and Benjamin makes her live once again between the covers of The Aviator's Wife. Despite her unique problems as a woman in the spotlight, her general struggles with balancing children, husband, and self will be familiar to many women.
There can be downsides to being so invested in a character's life, of course. The pages leading up to the kidnapping of Charles and Anne's first child were so suspenseful and heart-stopping as to be almost torturous, especially to a parent of small children. Still, the paralyzing fear aside, that passage made me realize just how much I had been brought into Anne's world, how authentically human she was to me.
The Aviator's Wife is a fascinating book about a fascinating woman. Highly recommended.
Buy this book from:
Powells | Indiebound*
Source: Publisher.
* These links are all affiliate links. If you buy your book here I'll make a very small amount of money that goes towards hosting, giveaways, etc.
Copyright protected by Digiprove © 2013