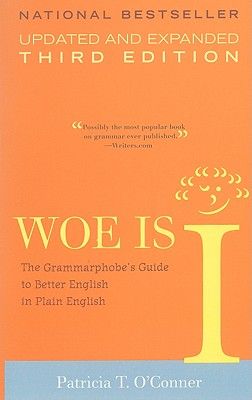 Woe is I: The Grammarphobe's Guide to Better English in Plain English by Patricia T. O'Connor
Published by Riverhead Trade, an imprint of Penguin

From the publisher:
In this new edition of Woe Is I, Patricia T. O'Conner unties the knottiest grammar tangles and displays the same lively humor that has charmed and enlightened grateful readers for years. With new chapters on spelling and punctuation, and fresh insights into the rights, wrongs, and maybes of English grammar and usage, Woe Is I offers down-to-earth explanations and plain-English solutions to the language mysteries that bedevil all of us:

Avoid the persistent (and persistently embarrassing) grammatical errors that bewilder the best and the brightest
Pronounce and spell words that even the smartest people mangle
Correctly use hundreds of woefully abused words and phrases
I actually read Woe is I at work, we spent Friday afternoons reading things that could be pertinent to our positions, and since I did a lot of writing and web writing at work, I chose Woe is I. Below are some of my thoughts as I was reading:
Really good cross-referencing: O'Connor is very good about noting where similar rules are discussed, and similar ideas mentioned and pointing you to them.
Good examples: The examples are not only easy to understand, they are relevant, and it is not difficult to figure out how they translate to other situations.
Clear rules: O'Connor lays out in plain terms what the rules are, why they are, and when you can ignore them. All of this written in plain English, in case you don't know a subject from a predicate.
Funny: The funny in Woe is I tends towards the corny, but it is funny all the same. For example, on page 130 in the discussion of spell-checkers and using them only as a backup, "oar Yule bee sari." This and similar jokes keep Woe is I entertaining, a must if you're going to read over 250 pages about grammar.
Both engaging and informative, Woe is I is a great basic grammar guide.
Buy this book from:
Powells | Indiebound*
Source: Borrowed copy.
* These links are all affiliate links. If you buy your book here I'll make a very small amount of money that goes towards hosting, giveaways, etc.
Copyright protected by Digiprove © 2012