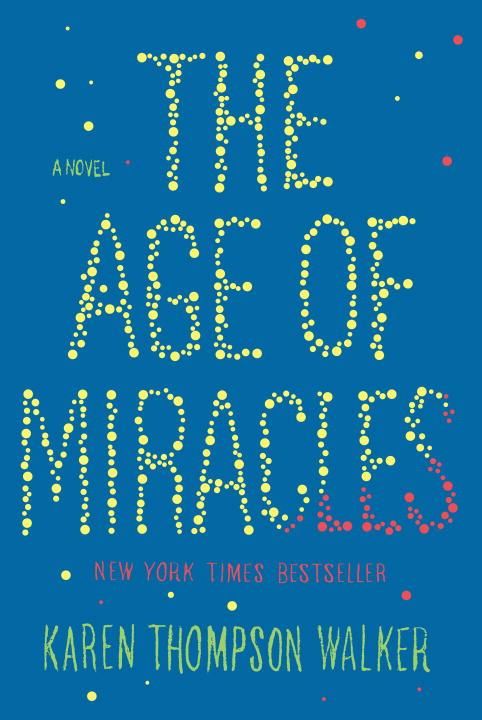 The Age of Miracles by Karen Thompson Walker
Published by Random House
Who among us hasn't expressed a wish for more hours in a day? But have you ever stopped to wonder what would happen if you actually got that wish?
Julia is too young to have ever even harbored a wish for longer days when the fallacy of such a mindset becomes apparant. It seems like a normal Saturday morning, at least until the news reports start coming in that the orbit of the Earth slowed overnight. At first not too much changes, but as the Earth continues to slow, things become increasingly complicated. For one, gravity starts to have a great effect, first changing the rhythm of sports, then making movement more difficult for everyone. Secondly, people must decide whether to live by 'clock time' or the natural rhythms of the world. Both have their challenges: would you rather try to stay awake for 20 hours and sleep for another 20, or occasionally go entire days without seeing the sun and entire nights in bright sunlight?
The Age of Miracles is one of those books that you can pick up to read for a few minutes and accidentally get stuck in for 70 or more pages. It is a beautifully told story, and works perfectly as either a coming of age story or an apocalyptic one. Walker clearly did her homework on the impact of the Earth's rotation slowing, many of the negative effects of this change are things that would never have occurred to me, but the science generally seems to make sense once Walker brings them up.
For Julia, a slow apocalypse does not fundamentally change the difficulties of growing up. She must still deal with the growing estrangement of her parents, teasing at school, and her first major crush. Although Julia's story is about her coming of age, The Age of Miracles is aimed at an adult rather than young adult audience. It would, however, make a good cross-over for young adult audiences.
The Age of Miracles is an endlessly absorbing book with great writing and an even better story. Very highly recommended.
Buy this book from:
Powells | Indiebound*
Source: Publisher.
* These links are all affiliate links. If you buy your book here I'll make a very small amount of money that goes towards hosting, giveaways, etc.
Copyright protected by Digiprove © 2012