It is nice and warm this weekend! The girls and I took a LONG walk yesterday (well, a medium walk, a thunderstorm was rolling in so we had to head home), and I'm hoping that today we can all get out and rake the yard. It should be the last major raking we will have to do, I think.
Hopefully this coming week is more productive than last week. Brian was out of town from Tuesday morning to late Friday night and I got all messed up by the election. Tuesday I was too anxious and couldn't concentrate on anything except stories about the election online and then I stayed up too late and never caught back up on sleep at home with three kids (the couple of nights it seemed like I might the girls were up most of the night instead of sleeping the whole time, like they had been).
I had a lot of work I needed to get done this week. Because I was so tired and brain dead, that means I mostly just stared at my computer and didn't get much read. Luckily part of my birthday celebration last Sunday was other people playing with my children and cooking while I laid in my room and read, so I did finish a couple of things early last week: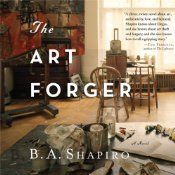 Luckily for my blog everything for this past week was scheduled ahead of time – this coming week, not so much, I hope I can get that done today – otherwise I might not have had any content. Here's what I reviewed:
I also had a guest post from Mary Sharratt about Hildegard von Bingen and the ways she is still important today.
Copyright protected by Digiprove © 2012