I am SHOCKED, but I actually ended up finishing 17 books this month. That is a fairly typical month for me, if perhaps ever so slightly on the low side, so why am I shocked? Well, the beginning of this month had me reading like molasses. By the 10th I had only finished 3 books. I was pretty sure I was in store for a terribly slow month and that there was no chance I'd finish my books for 2012 and make it to reading my own books in November.
Not that I totally made my goal. As of Halloween night I'm about 100 pages away from the end of one book and still have one more in print and one more egalley to read to finish out this year, but I'm hoping I can finish those in the next few days. I also have one 2013 book I have to read in early November, but I'm hoping I can spend at least 3/4 of the month reading my own books (not counting audio), so maybe I'll knock 7 or 8 books off of the great TBR.
Of the 17 books I finished in October, 6 were audiobooks for a total of 56 hours and the other 11 were print or ebooks, for a total of about 4100 pages. I reviewed 14 books, including 4 audiobooks this month, as well as posting one Saturday Story Spotlight.
What I Reviewed:
Audiobooks
The Dog Stars by Peter Heller, narrated by Mark Deakins
The Roots of the Olive Tree by Courtney Miller Santo, narrated by Karen White
City of Women by David Gillham, narrated by Suzanne Bertish
How Children Succeed by Paul Tough, narrated by Dan John Miller
Fiction
The Mermaid Collector by Erika Marks
The Casual Vacancy by J.K. Rowling
Blackberry Winter by Sarah Jio
The Other Half of Me by Morgan McCarthy
The Vanishing Act by Mette Jakobsen
The Art Forger by B.A. Shapiro
Historical Fiction
A Dangerous Inheritance by Alison Weir
In Need of a Good Wife by Kelly O'Connor McNees
Days of Splendor, Days of Sorrow by Juliet Grey
Miss Dreamsville and the Collier County Women's Literary Society by Amy Hill Hearth
The Second Empress by Michelle Moran
Sacred Treason by James Forrester
Mystery
Skating on the Edge by Joelle Charbonneau
Nonfiction
Medusa's Gaze and Vampire's Bite: The Science of Monsters by Matt Kaplan
Saturday Story Spotlight
Frankenstein by Ludworst Bemonster
Other Posts:
Historical Halloween Treats
Pick of the Month: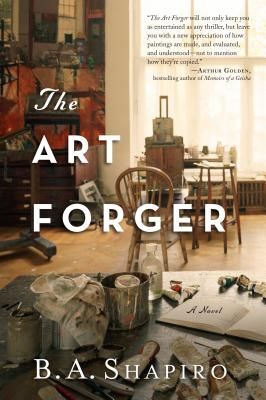 Other Books Read, Watch for Reviews:
Audiobook
Toby's Room by Pat Barker, narrated by Nicola Barber (no review)
Becoming Clementine by Jennifer Niven, narrated by Kathe Mazur
Astray by Emma Donoghue, narrated by Kristine Hvam, James Langton, Robert Petkoff, Suzanne Toren, and Dion Graham
Sutton by J.R. Moehringer, narrated by Dylan Baker
The Dangers of Proximal Alphabets by Kathleen Alcott, narrated by Carrington MacDuffie
Fiction
The Age of Miracles by Karen Thompson Walker
A Royal Pain by Megan Mulry
Strong Poison by Dorothy L. Sayers
The Stockholm Octavo by Karen Engelmann
Flight Behavior by Barbara Kingsolver
The Start of Everything by Emily Winslow
Nonfiction
Consider the Fork: A History of How We Cook and Eat by Bee Wilson
Note: Some of these books were provided to me for review.
Copyright protected by Digiprove © 2012