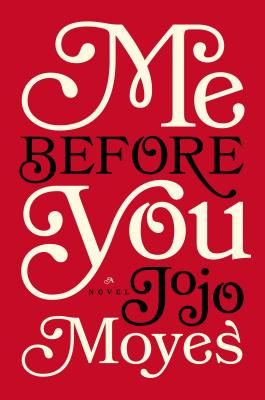 In a world in which blurbs on books don't always mean a lot, there is one author whose blurbs I take very seriously, those of Eleanor Brown, author of The Weird Sisters. She rarely, if ever, steers me wrong; our tastes are so similar we jokingly call ourselves "book twins." The latest Eleanor-blurbed book I've discovered is Jojo Moyes' Me Before You, which will be released in the US on December 31. Even better, I've already seen rave reviews from blogging friends on Twitter. Here's the publisher's description:
 Louisa Clark is an ordinary girl living an exceedingly ordinary life—steady boyfriend, close family—who has never been farther afield than their tiny village. She takes a badly needed job working for ex–Master of the Universe Will Traynor, who is wheelchair bound after an accident. Will has always lived a huge life—big deals, extreme sports, worldwide travel—and now he's pretty sure he cannot live the way he is.

Will is acerbic, moody, bossy—but Lou refuses to treat him with kid gloves, and soon his happiness means more to her than she expected. When she learns that Will has shocking plans of his own, she sets out to show him that life is still worth living.
Thanks to the publisher, I have five copies to give away to lucky readers with US mailing addresses. Simply enter on the form below by noon Eastern on Friday, November 30. Also make sure to check out the Me Before You playlist and the Me Before You Twitter chat hosted by Publisher's Weekly from 1-2 pm Eastern on December 6th, hashtag #JoJoPW whether you win a copy or not.
Copyright protected by Digiprove © 2012