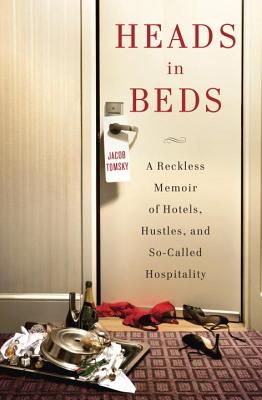 Heads in Beds: A Reckless Memoir of Hotels, Hustles, and So-Called Hospitality by Jacob Tomsky
Published by Doubleday, an imprint of Random House
There is LOTS you can do with a degree in Philosophy, guys! You can be a valet for a nice hotel in New Orleans, or…
Okay, well, there are probably lots of other options, but that's where Jacob Tomsky landed, parking cars. From there, he began to move up in the hotel, hitting the front desk and even working as a manager in the housekeeping department. The longer he worked in hospitality, though, the less suited he became for jobs elsewhere. In fact, the longer he worked reception at a single hotel, the less able he became to even move to another hotel because of the way that pay and preferred shifts work in the industry. So it turned out that Jacob just had to stay. Stay, and begin to grow slightly bitter.
As a result of Tomsky's ultimate frustration with the hospitality industry, we have Heads in Beds. Tomsky chronicles much of his own personal work in hotels, hitting some of the highest-interest, most drama-filled interactions. This isn't just someone's catalog of complaints, though. Tomsky uses many of the incidents he recounts to give tips to the traveler in order to ensure the best possible hotel stay: how to get the best rooms, how to never pay for minibar items, and even how to get those movies removed from your bill. Also, after reading Heads in Beds, you will always, always, always tip the bellman.
Tomksy is an engaging writer, and the way he alternates between the inward look of his personal story and the outward look of his tips for travelers works very well together. There is enough balance that whichever aspect of the memoir you are reading for, I think you will be happy with it. Heads in Beds is a must for travelers who want to know what is really going on behind the scenes in the hotels where they stay. Recommended.
Buy this book from:
Powells | Indiebound*
Source: Publisher, via NetGalley.
* These links are all affiliate links. If you buy your book here I'll make a very small amount of money that goes towards hosting, giveaways, etc.
Copyright protected by Digiprove © 2012