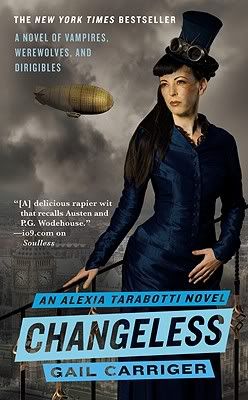 Changeless by Gail Carriger
Published by Orbit, an imprint of Hachette
This is the second book in the Parasol Protectorate series, I have previously reviewed the first book, Soulless.

Just because Alexia is now the Lady Woolsey, wife of Conall Maccon, Earl of Woolsey, doesn't mean that Conall necessarily bothers to tell her much of anything. When Conall marches out of the house yelling at the top of his lungs, he neglects to tell Alexia anything that is going on, leaving her to discover for herself the regiment of werewolves camped out on their front lawn. In addition to the soldiers, it seems that the British Isles have suddenly been plagued by something that is negating the powers of supernaturals, including exorcising ghosts. As an adviser to Queen Victoria, Alexia is tasked with uncovering the secret behind why everyone is Changeless.
I thoroughly enjoyed Soulless, the first book in this series. Changeless, however, held a bit less magic for me. Part of the issue, I think, is the lack of interplay between Conall and Alexia. The two spend much of the novel apart, and the frolicking fun of Soulless, which depended so much on their tumultuous relationship, is much less evident in Changeless.
Overall, Changeless just really failed to grab me. For most of the book I was planning to give up on the series here, although some events at the end of the book do have me tempted to go on to Blameless. Still, I think I need some convincing from those who have read this series as to whether or not it is worth continuing.
Buy this book from:
Powells | Indiebound*
Source: Personal.
* These links are all affiliate links. If you buy your book here I'll make a very small amount of money that goes towards hosting, giveaways, etc.
Copyright protected by Digiprove © 2012