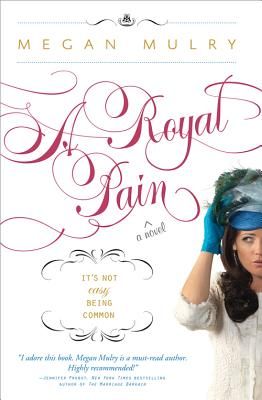 A Royal Pain by Megan Mulry
Published by Sourcebooks Landmark, an imprint of Sourcebooks
Once burned, twice shy.
This describes Bronte perfectly. She was once a smart, sexy, professional woman, but then she met the Texan. He seemed so wonderful when they were meeting on the weekends. When she left her job in New York and moved to Chicago to be with him? Not so much. Now Bronte is finally healing a bit, and to do so she's guarding her independence very closely. When she meets Maxwell, the handsome British man getting an advanced economics degree at the University of Chicago, she decides that they need to be no-strings-attached. Maxwell is happy with their situation , but just for the time being. You see, Maxwell is convinced that he has met the woman who will one day become his wife and he knows something Bronte doesn't: the woman who becomes his wife will also become the Duchess of Northrop.
A Royal Pain is a lot of fun. In some (very obvious) ways, it reminds me of The American Heiress by Daisy Goodwin. Both feature American girls running off to become British royalty. As might be expected from the contemporary setting, Bronte and Maxwell's relationship is certainly more of a love match – Maxwell's family is still quite wealthy – but despite some major differences, some of the same difficulties remain. Maxwell is, at times, a bit controlling. Much of this can perhaps be put down to cultural differences, but even just the fact that he decides Bronte is his future wife and doesn't bother telling her for quite awhile is occasionally off-putting. I must also say that I got tired of hearing about their mind-blowing sex they were having during their no-strings-attached time. Of course, I'm not typically a reader of romance novels, so perhaps I found it particularly tedious.
Despite some weaknesses, though, Mulry's characters – Bronte in particular – are vivid and do a remarkably good job at taking up residence in the reader's brain. For days after finishing A Royal Pain, I found myself thinking about the book, wondering how Bronte might be doing after the end. Say what you will about any of its faults, the ability of A Royal Pain to stay with me like that is, to me, the mark of a good book.
Buy this book from:
Powells | Indiebound*
Source: Publisher.
* These links are all affiliate links. If you buy your book here I'll make a very small amount of money that goes towards hosting, giveaways, etc.
Copyright protected by Digiprove © 2012