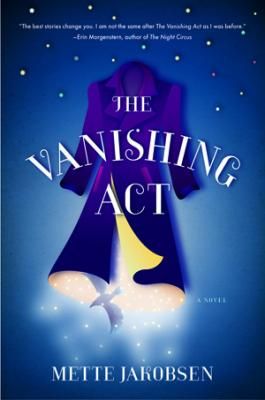 The Vanishing Act by Mette Jakobsen
Published by W. W. Norton & Co
Minou lives on a little island with her Papa (a descendent of Descartes and philosophy fanatic), a priest, Boxman the magician, and a little dog named No-Name. For most of her life, Minou's mother lived on the little island with them, but recently she disappeared; Minou is convinced that she is still alive and may come back some day. When a dead boy washes up on the beach, Minou is certain that somehow her mother's disappearance is connected to the appearance of the boy, and that her mother will want to know everything she has observed since the boy washed up on shore.
The Vanishing Act is a slight novel, but a magical one. It could almost be mistaken for a middle grades novel, with its young narrator, its child-like wonder, and even its brevity. The way the themes of love and loss are handled, though, are definitely more suited to an adult – or perhaps older teen – audience.
The Vanishing Act is a book that is difficult to talk too much about without revealing spoilers. There isn't a particularly lot of plot, being instead more about Minou's thoughts, feelings, and ideas, as well as her perception of the few people around her. It is however lovely and engrossing, and will stay with you for much longer than it takes to read.
Buy this book from:
Powells | Indiebound*
Source: Publisher, via Edelweiss.
* These links are all affiliate links. If you buy your book here I'll make a very small amount of money that goes towards hosting, giveaways, etc.
Copyright protected by Digiprove © 2012