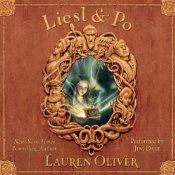 Liesl & Po by Lauren Oliver, narrated by Jim Dale
Published in audio by TK, published in print by HarperCollins

Synopsis:
The death of her beloved father has left Liesl helpless in the clutches of a very evil stepmother. Instead of forcing her to clean house Cinderella-style, though, Liesl's stepmother keeps her locked in the attic Bertha Rochester-style. Surprising as it may seem, the luckiest day in Liesl's young life is when a ghost named Po shows up in her attic bedroom. No longer male or female, the prickly Po befriends Liesl, and is able to give her information about her father on the Other Side, information that makes Liesl determined to take action to change her lot in life and her father's lot in the afterlife.
Thoughts on the story:
Lauren Oliver's middle grade story Liesl & Po is very cute and sweet. Liesl and Po have an interesting friendship as they attempt to overcome the barrier between the living and the dead. Similarly charming is the ardent schoolboy crush that Will, the alchemist's apprentice, has on Liesl. It may be slightly creepy that he watches through her window from the street, but before long it becomes clear that his is a noble (or at least shy and embarrassed) love. Perhaps the best thing about Liesl & Po, though, is that it failed to simply go exactly where I thought it would. Oliver kept the story fresh, and moving in new and more complex directions, which was both surprising and refreshing.
Thoughts on the audio production:
Jim Dale's adult women all sounded very mannish in Liesl & Po, but they were simply supporting characters, so it wasn't really a problem. Overall his voices were relatively good, and he certainly made for an engaging listening experience.
Overall:
An enjoyable audiobook and a good palate cleanser. Recommended.
Buy this book from:
Powells: Print*
Indiebound: Print*
Audible.com
I'm launching a brand-new meme every Friday! I encourage you to review any audiobooks you review on Fridays and include the link here. If you have reviewed an audiobook earlier in the week, please feel free to link that review as well. Thanks to Pam for creating the button.
Source: Library.
* These links are all affiliate links. If you buy your book here I'll make a very small amount of money that goes towards hosting, giveaways, etc
Copyright protected by Digiprove © 2012