Welcome to BOOK CLUB, which I run with co-conspirator Nicole from Linus's Blanket. Today we will be chatting about Dare Me by Megan Abbott  which was released July 31st by Reagan Arthur Books. For those of you reading this post, please remember that this discussion is likely to contain spoilers.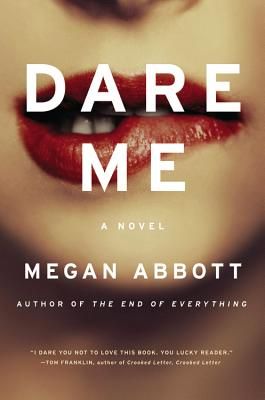 Here is the publisher's synopsis
Addy Hanlon has always been Beth Cassidy's best friend and trusted lieutenant. Beth calls the shots and Addy carries them out, a long-established order of things that has brought them to the pinnacle of their high-school careers. Now they're seniors who rule the intensely competitive cheer squad, feared and followed by the other girls — until the young new coach arrives.

Cool and commanding, an emissary from the adult world just beyond their reach, Coach Colette French draws Addy and the other cheerleaders into her life. Only Beth, unsettled by the new regime, remains outside Coach's golden circle, waging a subtle but vicious campaign to regain her position as "top girl" — both with the team and with Addy herself.

Then a suicide focuses a police investigation on Coach and her squad. After the first wave of shock and grief, Addy tries to uncover the truth behind the death — and learns that the boundary between loyalty and love can be dangerous terrain.
Before we get started, here are some of the reviews of readers who will be participating today:
Between the Covers
Devourer of Books
Home Cooked Books
Linus's Blanket
Nomad Reader

If you plan on participating in today's BOOK CLUB, please consider subscribing to comments at the bottom of the page (please use the TOP subscription option). I will be updating this post with new questions and ideas over the course of the day.
Here we go…
First off, what were your general impressions of the book?
Is this a book you would have read had you not been reading it for a book club?
What did you think of Coach and her relationship with the girls? Why do you think she acted the way she did?
What did you think about the dynamic between Beth and Addy? Did you expect the revelation at the end about their relationship?
Any other thoughts/questions?
Copyright protected by Digiprove © 2012