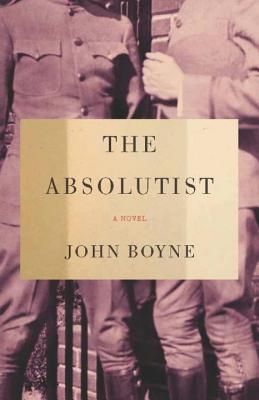 The Absolutist by John Boyne
Published by Other Press
It is 1919 and Tristan has survived WWI – at least bodily.
"I may not be buried in a French field but I linger there. My spirit does, anyway. I think I'm just breathing, that's all. And there's a difference between breathing and being alive." -p. 137
Now that he is physically safe and has had some time regain his bearings in life outside of war, Tristan is on a mission to meet with the sister of a man he once served with. Ostensibly he wishes to return to her the letters she sent Will while he was enlisted, but in reality there is more to it than that; Tristan has a secret that he can no longer keep entirely to himself.
I actually believe that it is better not to know too much about The Absolutist going into it. Tristan's story unfolds gradually, alternating between his trip to see Will's sister and his time in training and on the battlefield. The Absolutist is about Tristan and Will's relationship, the horrors of war, and the attempt to recover mentally from what one sees in war.
Boyne's writing is beautiful, and he drags the reader immediately into Tristan's world and life. The Absolutist is mesmerizing and difficult to put down, the reader can feel Tristan's pain and the secret he harbors almost bodily, but Boyne still manages to keep The Absolutist from turning into  a morass of sorrow and pain.
The Absolutist is an absolutely beautiful, painful, and moving novel of war and humanity and I very highly recommend it.
Buy this book from:
Powells | Indiebound*
Source:Publisher, for BOOK CLUB .
* These links are all affiliate links. If you buy your book here I'll make a very small amount of money that goes towards hosting, giveaways, etc.
Copyright protected by Digiprove © 2012