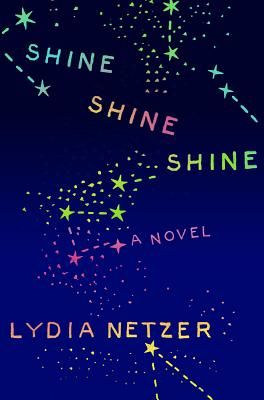 Shine Shine Shine by Lydia Netzer
Published by St. Martin's Press, an imprint of Macmillan
This is the story of an astronaut who was lost in space, and the wife he left behind. Or this is the story of a brave man who survived the wreck of the first rocket sent into space with the intent to colonize the moon. This is the story of the human race, who pushed one crazy little splinter of metal and a few pulsing cells up into the vast dark reaches of the universe, and the hope that the splinter would hit somehting and stick, and that the little pulsing cells could somehow survive. This is the story of a bulge, a bud, the way the human race tried to subdivide, the bud it formed out into the universe, and what happened to that bud, and what happened to the Earth, too, the mother Earth, after the bud was burst. -p. 2
The Mann family is going through a difficult time: Sunny is hugely pregnant with their second child; their autistic first child Bubber is increasingly having trouble at preschool; Sunny's mother is in the hospital slowly dying; and Maxon is heading to the moon to set up robots for a future moon colony. Everything is already chaos when Sunny and Bubber are in a car accident that knocks Sunny's wig off of her head and into the street. Bald since birth, Sunny has been wearing a wig ever since she and Maxon moved to Norfolk, Virginia while she was pregnant with Bubber as part of her attempt to be the perfect wife and mother. Now that her cover has been blown in front of her neighbors, Sunny must once again discover and decide exactly who she is.
There was only one thing that I didn't love about Shine Shine Shine, and that is the fact that with every sentence I realized that I would never be able to write like Netzer does. Nearly every sentence surprised me with plot, turn of phrase, or characterization. Shine Shine Shine is definitely quirky – after all, the main character is a bald Caucasian  woman born in Burma during an eclipse – but it manages to be so while still maintaining a real and realistic quality. Most of us may never have any of Sunny's particular problems, but the way she questions her identity is universal.
Shine Shine Shine is wonderful and difficult to put down. It is a wonderful book and one I highly recommend.
For more about Shine Shine Shine, please see my review and my interview with Lydia Netzer for SheKnows.com.
Buy this book from:
Powells | Indiebound*
Source: Publisher, via Netgalley.
* These links are all affiliate links. If you buy your book here I'll make a very small amount of money that goes towards hosting, giveaways, etc.
Copyright protected by Digiprove © 2012