It is that time again! We are gearing up for next month's discussion of Dare Me by Megan Abbott (Tuesday, August 7th right here), but it is also time to give away the next  BOOK CLUB selection. In September we will be reading an offering from Mulholland Books, Breed by Chase Novak.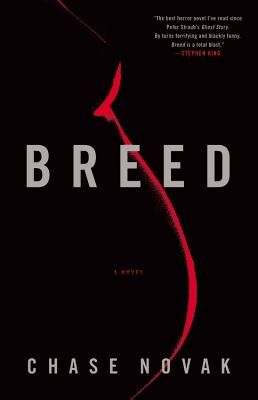 We will be discussing Breed on Nicole's blog on Tuesday, September 4th.
From the publisher:
Alex and Leslie Twisden lead charmed lives-fabulous jobs, a luxurious town house on Manhattan's Upper East Side, a passionate marriage. What they don't have is a child, and as they try one infertility treatment after the next, yearning turns into obsession. As a last-ditch attempt to make their dream of parenthood come true, Alex and Leslie travel deep into Slovenia, where they submit to a painful and terrifying procedure that finally gives them what they so fervently desire . . . but with awful consequences.

Ten years later, cosseted and adored but living in a house of secrets, the twins Adam and Alice find themselves locked into their rooms every night, with sounds coming from their parents' bedroom getting progressively louder, more violent, and more disturbing.

Driven to a desperate search for answers, Adam and Alice set out on a quest to learn the true nature of the man and woman who raised them. Their discovery will upend everything they thought they knew about their parents and will reveal a threat so horrible that it must be escaped, at any cost
If you would like to be considered as a participant for August, please fill out the form below by noon, Eastern on Tuesday, June 26th. Your mailing address will be discarded if you aren't selected to participate and used to mail you the book if you are. I do not share or retain any personal information. Only those selected will be contacted by email.
Copyright protected by Digiprove © 2012