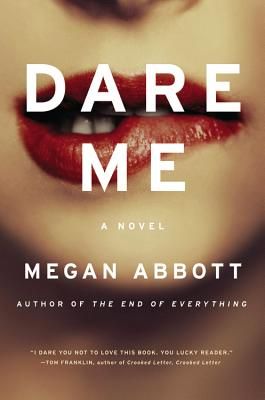 Dare Me by Megan Abbott
Published by Reagan Arthur Books, an imprint of Hachette
Beth Cassidy was captain of the cheer squad, queen bee, and Addy Hanlon's best friend. Everything changes for the girls when their old cheer coach leaves and a new, younger, more competitive woman takes over the position. When Coach Collette French removes Beth from her position as captain, the two are set at odds, even more so once Addy falls under the coach's sway. All is not well in Coach French's life, though. There is definitely something not right between the coach and her husband and before long Collette and Addy are drawn into an investigation of the alleged suicide of the coach's lover. Now Addy needs to figure out whether the suicide is really what it seems, or whether she's gotten into something she never expected to be a part of.
Abbott is gifted at creating realistic and life-like characters and situations. I spent much of Dare Me feeling disgust and fury at Coach French and the way she interacted with the girls. She had a completely inappropriate relationship with them, but given the circumstances it did not seem completely unrealistic. Once my annoyance with the coach subsided somewhat, I realized that for me to have been that bothered by Collette's actions meant that Abbott created in Dare Me a world that I believed completely and had invested in to some extent.
While this is not my favorite of the three of Abbott's books I have read – that distinction probably goes to the only one I haven't reviewed, Bury Me Deep, she does continue to be very successful in engaging me in the worlds she creates, which means I have every intention of continuing to read her.
Buy this book from:
Powells | Indiebound*
Source: Publisher, for BOOK CLUB.
* These links are all affiliate links. If you buy your book here I'll make a very small amount of money that goes towards hosting, giveaways, etc.
Copyright protected by Digiprove © 2012