If you wrote a post on this or any of my other discussion topics today, Tuesday June 26th please leave your link in the Mr. Linky before midnight Central time (US) and you will be eligible to win a prize.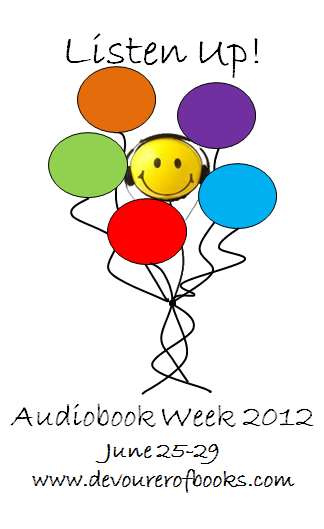 Discuss the essentials of audiobook reviewing. What do you make sure to include? What do you want to see when you read other people's reviews?
Like regular book reviews, what is included in audiobook reviews varies from person to person. Some people, for instance, include release date and page number or audiobook length in their reviews. I am personally less interested in that information, so I don't include it. I do like to know information about the publishers, both print and audio, because I find it tells me quite a lot about the book or audiobook, so I include imprint and publisher information for print editions, and for audiobooks I include all of this information, plus information on who published the audiobook. These pieces of information are definitely personal, and reasonable people can absolutely disagree on what should be included.
What I think is non-negotiable in an audiobook review, though, is some sort of information about the narrator and/or production. Who was the narrator? Did he or she fit the story? Were there studio noises that distracted you? Did the narration pull you farther into the story?
There are two reasons that this sort of information is important. First of all, other people who are considering the audiobook will want to know if the narrator and production were any good. The other reason is that an audio production can seriously influence how you feel about a book. An amazing production can elevate a mediocre book and a bad production can keep you from enjoying a great book. Even the people reading your review who will never listen to an audiobook need to know what you thought about the production, so that they can assess how the production influenced how you felt about the book itself.
Candace from Beth Fish Reads also has a great post about How to Write an Audiobook Review that you should check out if you feel that you need more pointers, or check out the responses of some of your fellow bloggers below.
Copyright protected by Digiprove © 2012