Do you remember D.E.A.R? At my elementary school that meant "Drop Everything And Read," something we typically did for 10 or 15 minutes every day. Best part of my day, really. As my TBR and Library piles are battling for supremacy and trying to sneak in around the review copies who have staked out places on my calendar, I'm thinking back to the simpler days of D.E.A.R., when I believed I had time to get to any book I wanted. And that, of course, got me fantasizing about a world where I really could just Drop Everything And Read for more than just 15 minutes a day.
It is that time again! Time for me to show you the unreasonably large piles of books I hope to read in an unreasonable short period of time. This edition brought to you by me wanting to read ALL THE THINGS before the twins come and make that much more difficult. I'm 35 weeks pregnant as of today. My actual due date isn't for 5 more weeks, but twins are considered to be full-term as of 38 weeks, so it is possible that my doctors would want to induce then if the girls haven't come on their own. My son was so late that I'm hoping they won't really be here much before that, because we have a fair amount to do around the house (plus I have lots of things to read and write).
I actually tried to be slightly more realistic than I was at Christmas. Here's my primary/first priority pile: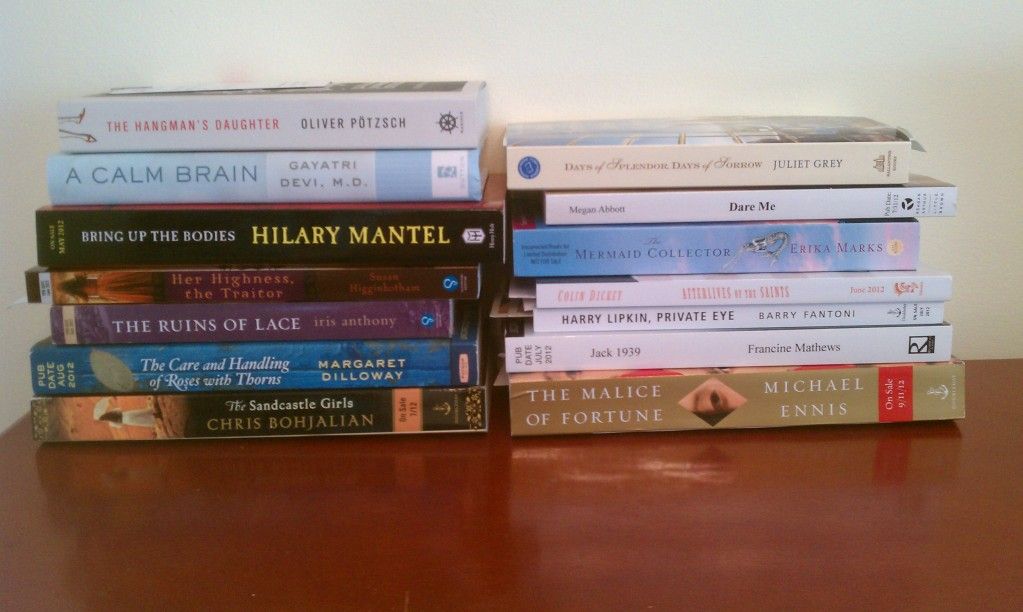 [wpcol_1half id="" class="" style=""]The Hangman's Daughter by Oliver Potzsch
A Calm Brain: Unlocking Your Natural Relaxation System by Gayatri Devi
Bring up the Bodies by Hilary Mantel
Her Highness, the Traitor by Susan Higginbotham
The Ruins of Lace by Iris Anthony
The Care and Handling of Roses with Thorns by Margaret Dilloway
The Sandcastle Girls by Chris Bohjalian[/wpcol_1half] [wpcol_1half_end id="" class="" style=""]Days of Splendor, Days of Sorrow by Juliet Grey
Dare Me by Megan Abbott
The Mermaid Collector by Erika Marks
The Afterlives of the Saints by Colin Dickey
Harry Lipkin, Private Eye by Barry Fantoni
Jack 1939 by Francine Matthews
The Malice of Fortune by Michael Ennis[/wpcol_1half_end]
And my secondary pile:
The Divorce of Henry VIII by Catherine Fletcher
Tigers in Red Weather by Liza Klaussman
The Violinist's Thumb: And Other Lost Tales of Love, War, and Genius, as Written in Our Genetic Code by Sam Kean
Pure by Andrew Miller
The Dark Monk by Oliver Potzsch
Beautiful Ruins by Jess Walter
Overseas by Beatriz Williams
Only One Life and Call Me Princess by Sara Blaedel
All this would seem pretty reasonable, if not for the giant list of ebooks I ALSO hope to get to:
[wpcol_1half id="" class="" style=""]The Age of Desire by Jennie Fields
The Absolutist  by John Boyne
Alif Unseen by G. Willow Wilson
The Dog Stars by Peter Heller
Grammar Girl's 101 Troublesome Words You'll Master in No Time by Mignon Fogarty
Hemingway's Girl by Erika Robuck
A Hundred Flowers by Gail Tsukiyama[/wpcol_1half] [wpcol_1half_end id="" class="" style=""]In the Shadow of the Banyan Tree by Vaddey Ratner
The Mirrored Worldby Debra Dean
The Next Best Thing by Jennifer Weiner
Rabid by Bill Wasik and Monica Murphy
The Second Empress by Michelle Moran
Shine Shine Shine by Lydia Netzer
The Wild Princess: A Novel of Queen Victoria's Daughters by Mary Hart Perry[/wpcol_1half_end]
Guess it is time to finish up my current books and get reading!!
Copyright protected by Digiprove © 2012