It is that time again! We are gearing up for next month's discussion of The Absolutist by John Boyne (Tuesday, July 10th on Nicole's blog), but it is also time to give away the next  BOOK CLUB selection. In August we will be reading an offering from Reagan Arthur Books,Dare Me by Megan Abbott.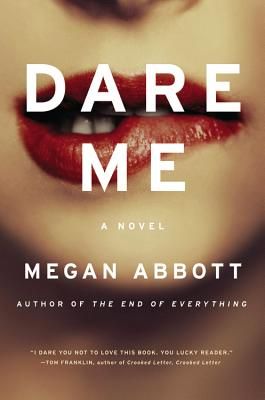 We will be discussing Dare Me right here on Tuesday, August 7th. 
From the publisher:
Since both girls were small, Addy Hanlon has always been Beth Cassidy's best friend and right-hand lieutenant. Beth calls the shots and Addy carries them out, a long-established order of things that has brought them to the pinnacle of their high-school careers. Now they're seniors who rule the intensely competitive cheer squad, feared and followed by the other girls – until the young new coach arrives.

Cool and commanding, an emissary from the adult world just beyond their reach, Coach Colette French draws Addy and the other cheerleaders into her life. Only Beth, unsettled by the new regime, remains outside Coach's golden circle, waging a subtle but vicious campaign to regain her position as "top girl" – both with the team and with Addy herself.

And then a suspicious suicide hits close to home, and the police investigation focuses on Coach and her squad. As Addy begins to suspect what really happened, the line between right and wrong grows blurrier, and she must decide where her loyalties truly lie-and how far is too far to go for someone you love.
If you would like to be considered as a participant for August, please fill out the form below by noon, Eastern on Tuesday, June 26th. Your mailing address will be discarded if you aren't selected to participate and used to mail you the book if you are. I do not share or retain any personal information. Only those selected will be contacted by email.
Copyright protected by Digiprove © 2012