If you wrote a post on this or any of my other discussion topics today, Monday June 25th please leave your link in the Mr. Linky before midnight Central time (US) and you will be eligible to win a prize.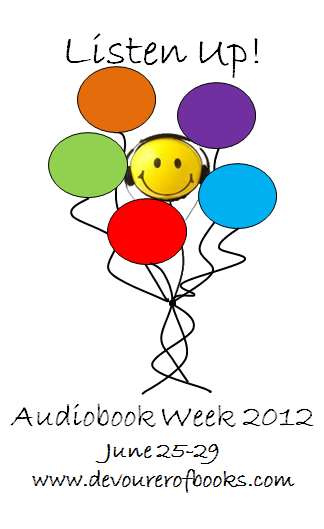 Are you new to audiobooks in the last year? Have you been listening to them forever but discovered something new this year? Favorite titles? New times/places to listen? This is your chance to introduce yourself and your general listening experience.
This has been a very audiobook-y year for me. Since last year's Audiobook Week, I've listened to more than 50 audiobooks, adding up to well over 500 hours or 20 days of audio. This does not even count many of the titles I listened to while doing first round judging for the Audie awards.
All of the moving we've been doing was really a boon for my listening, we'll see how I do in this next year with twins.
With all of that listening, you'd better believe I listened to some fabulous audiobooks. Here are some of my favorites from the last twelve months, in the order I reviewed them:
What about you? What were the highlights of your audiobook year?
Copyright protected by Digiprove © 2012