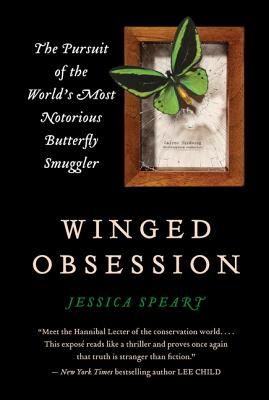 Winged Obsession: The Pursuit of the World's Most Notorious Butterfly Smuggler by Jessica Speart
Published by William Morrow Paperback, an imprint of HarperCollins
As a new agent at the U.S. Fish and Wildlife Agency, Ed Newcomer is determined to make a name for himself and thus is initially disappointed when his first major assignment has to do with butterfly smuggling. Bugs? Really? He can't be assigned to protect bald eagles or something? Quickly, though, Newcomer realizes that this could be a very major case, that Hisayoshi Koshima, the man he is investigating, is perhaps the world's top smuggler of butterflies and might just be a target that Ed can take down. From there, the story gets increasingly strange, as Ed finds himself pulled into Yoshi's butterfly smuggling world and works to build a case against him.
Winged Obsession is a very interesting work of narrative nonfiction and a fascinating peek inside the U.S. Fish and Wildlife agency. The story seems to falter a bit early on, mostly because the writing is not initially as smooth as it might be, but Speart is a good enough storyteller that before too long her narrative takes over and the reader becomes enmeshed in Newcomer's fight to stop Koshima's devastating trade in butterflies while at the same time trying to hold together his marriage. Particularly interesting is the look at how the U.S. Fish and Wildlife agency operates and just how much they try to do on a tiny budget. The budgetary constraints tie the hands of the agents frequently, Newcomer had trouble even getting set up with an undercover cell phone for his operation.
Although the writing is slightly weak initially, Speart is quickly able to draw the reader into her story of high-stakes butterfly trading. Her research was thorough, which helps bring the story vividly to life. Recommended.
Buy this book from:
Powells | Indiebound*
Source: Publisher.
* These links are all affiliate links. If you buy your book here I'll make a very small amount of money that goes towards hosting, giveaways, etc.
Copyright protected by Digiprove © 2012