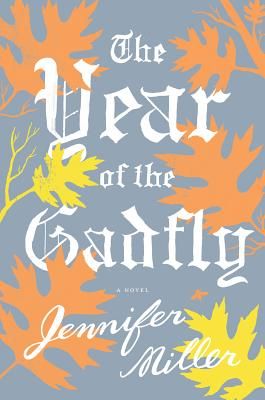 The Year of the Gadfly by Jennifer Miller
Published by Houghton Mifflin Harcourt
Iris Dupont doesn't particularly want to move to the small town of Nye, the name of which sounds like a negation. Her parents, though, think that leaving Boston and the memory of her best friend would be best for Iris, perhaps she'll even start talking to her imaginary friend, who takes the guise of dead newsman Edward R. Murrow. Her new prep school, Mariana Academy, is all about status and popularity, which doesn't fit Iris very well. Nor does it fit her favorite teacher, Mr. Kaplan who teaches freshman biology, but spends more time pushing his students to become 'extremophiles' than talking about Mendel. Both Iris and Mr. Kaplan quickly find themselves caught up in the storied Prisom's Party, a secret society that is stalking Mariana's halls.
The Year of the Gadfly is told in two time periods from three different perspectives. Iris and Mr. Kaplan both narrate the present, although Mr. Kaplan takes frequent trips down memory lane to his own time as a student at Mariana. The third point of view comes from Lily, an albino girl who is the daughter of the former headmaster of Mariana. Iris is now living in Lily's room, but Lily's point of view focuses on her own time at Mariana, where she was a classmate of Mr. Kaplan's – and his brother's girlfriend.
Three points of view, two time periods, the semi-ghost of Edward R. Murrow, a mysterious secret society – it sounds like Miller threw everything she could think of into The Year of the Gadfly. Upon reading the description, a reader can't help but imagine that this must be a disjointed and overly ambitious story. Surprisingly, though, it all fits together as perfectly as a puzzle. Each piece, instead of detracting from the story, is necessary to get the whole picture. Iris is a highly entertaining protagonist, but Mr. Kaplan and Lily end up being developed just as well as she is, and their stories swirl together beautifully.
The Year of the Gadfly is a wonderful debut for Jennifer Miller. Between the characters and the mystery, you won't want to put it down. Highly recommended.
Buy this book from:
Powells | Indiebound*
Source: Publisher.
* These links are all affiliate links. If you buy your book here I'll make a very small amount of money that goes towards hosting, giveaways, etc.
Copyright protected by Digiprove © 2012