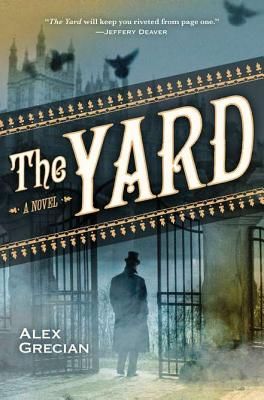 The Yard by Alex Grecian
Published by Putnam Books, an imprint of Penguin
Scotland Yard is not exactly at the height of its popularity a year after failing to solve the Ripper murders. In addition to the scorn of London's citizens, the Yard is also extremely understaffed, with only a dozen men on the Murder Squad, trying to solve the scores of homicides committed every month in the city. When a member of the Murder Squad turns up dead in a trunk, the remaining members must worry not only about how to deal with increased caseload but about whether there is someone out in the city targeting police. Another Ripper, perhaps? Unlikely heroes Detective Day and Constable Hammersmith must try to solve this murder before anyone else at The Yard is targeted.
Despite opening with a murder scene, The Yard gets off to a somewhat slow start as it attempts to introduce the Murder Squad, Day, and Hammersmith. There is a lot of ground to cover and it slightly stifles the story initially. By about 50 pages in, though, The Yard really picks up and becomes a page-turning thriller. Grecian ties together multiple plot lines and crimes, enough that The Yard could easily have seemed overly busy, but the disparate elements end up coming together very well. The pace is kept very quick once the story gets going, and The Yard is difficult to put down.
The Yard is a great summer thriller, with an engaging plot and a fascinating historical setting. Recommended.
Buy this book from:
Powells | Indiebound*
Source: Publisher.
* These links are all affiliate links. If you buy your book here I'll make a very small amount of money that goes towards hosting, giveaways, etc.
Copyright protected by Digiprove © 2012