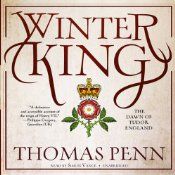 Winter King by Thomas Penn, narrated by Simon Vance
Published in audio by Blackstone Audio, published in print by Simon & Schuster
Synopsis:
In 1501, the War of the Roses came to an end when Henry Tudor, soon to be Henry VII, defeated Richard III at the Battle of Bosworth. Henry VII was now King of England. It was assumed he would rule through the right of his wife, Elizabeth of York, Richard's niece, but instead Henry surprised everyone by claiming to rule in his own right. When he began dating his reign to the day before the Battle of Bosworth, he suddenly gained the ability to decry – and punish – as treasonous anyone who served Richard to the end.
The Tudors are perhaps the most famous and popular dynasty in English history. Certainly, Henry VIII and Elizabeth I, Henry VII's son and granddaughter, are outsized personalities who unsurprisingly draw attention to the family, but Henry VII made both to of their reigns possible. Henry VII is frequently overshadowed by both Henry VIII, and by his Yorkist predecessors, the golden Edward IV and the much-maligned Richard III. However, he is the man who is able to set such a prominent dynasty of the Tudors on the throne through, doing so by controlling England with an iron fist; from executing those who were a possible threat to his dynasty, to his shrewd negotiations over the fate of Catherine of Aragorn after the death of her husband, Henry's oldest son Arthur.
Thoughts on the story:
In Winter King, Penn lays out the history and significance of Henry's rule with great clarity and insight. For the first time, for example, I understood the significance of and reasons for Henry VIII's execution of Dudley and Empson upon his ascension – a fact that is much mentioned but rarely expounded upon, beyond the fact that they were perhaps the most hated men in the kingdom. In fact, all devotees of Henry VIII and Elizabeth I's rules would do well to read this engaging history of the founder of their dynasty, as much done by Henry VII set the stage for actions they took during their own reigns.
Thoughts on the audio production:
In The Winter King, we see Simon Vance at his best. He narrates at a good speed to keep the history moving, without going so quickly that it is difficult to keep up with the myriad of people, events, and significances. His voice is at once soothing and engaging, drawing the reader into the world of 16th century England.
Overall:
This is a fascinating and very well narrated account of Henry VII's reign. Readers new to Tudor politics may want to stick to print, so they can go back and forth and remind themselves of who is doing what, but Vance's narration is a superb way to experience Winter King for those with even a passing familiarity of the time. Highly recommended.
Buy this book from:
Powells: Audio/Print*
Indiebound: Audio/Print*
I'm launching a brand-new meme every Friday! I encourage you to review any audiobooks you review on Fridays and include the link here. If you have reviewed an audiobook earlier in the week, please feel free to link that review as well. Thanks to Pam for creating the button.
Source: Publisher.
* These links are all affiliate links. If you buy your book here I'll make a very small amount of money that goes towards hosting, giveaways, etc.
Copyright protected by Digiprove © 2012