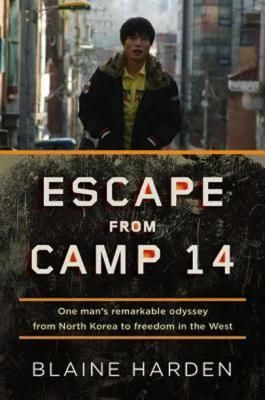 Escape from Camp 14: One Man's Remarkable Odyssey from North Korea to Freedom in the West by Blaine Harden
Published by Viking Books, an imprint of Penguin
The plight of ordinary North Koreans has been a topic increasingly discussed with Kim Jong Il's death, and the bevy of new fiction dealing with the isolated society. Barbara Demick does a wonderful job chronicling the privations of the 1990s and the ensuing breakdown of North Korean society in Nothing to Envy, and it seems that the North Koreans of the lower class in the outer provinces have had as hard a time of it as nearly any people group in the world. What is less often discussed, however, are the perhaps up to 200,000 people held in North Korean prison camps. Some of these camps hold prisoners for short times only, to 'rehabilitate' people like free market traders back into North Korean society. Others, though, such as Camp 14, hold families for lifetimes, even for generations, without any hope of release. In Escape from Camp 14, journalist Blaine Harden tells the story of Shin Dong-hyuk, the first person born into a North Korean prison camp to escape both the camp itself and North Korea.
Perhaps the most shocking parts of Escape from Camp 14 are those that detail Shin's childhood in the camp. The dehumanizing treatment of prisoners – one guard who has since defected states that he was taught to "think of inmates as 'dogs and pigs'" – meant that Shin never learned how to interact normally with other people. Everyone, including Shin's own mother, was a threat to him, in competition for resources and someone who would snitch on him for any infraction of camp rules. Shin steals his mother's lunch while she is at work, has rocks thrown at him by the children of guards, sees a little girl in his class beaten to death for stealing five kernels of corn. Eventually, as a 13 year old boy, he informs on his own mother and older brother who are planning an escape attempt and ensures their executions.
Equally fascinating and instructive are Shin's attempts to acclimate to life outside of the camps, especially once he reaches South Korea and the United States.
"I am evolving from being an animal," he said. "But it is going very, very slowly. Sometimes I try to cry and laugh like other people, just to see if it feels like anything. Yet tears don't come. Laughter doesn't come." –p. 179
Shin had no idea about the government of his own country, let alone the rest of the world. It did mean that he had less brainwashing to unlearn, but the entire idea of normal interpersonal interaction has often difficult, and still continues to be so.
Escape from Camp 14 is not an easy book to read, much that happened to Shin will turn your stomach. It is, however, an important book to read. Perhaps people are not being systematically killed, but they are being worked to death, housed with little or no regard for the necessities of life and with no rights whatsoever. The existence of these camps has been known for years, but it is a subject rarely mentioned in the West, or even in South Korea. They are not something that we can continue to ignore any longer.
Harden tells Shin's story in a clear, concise, and often horrifying way. Please read this book.
Buy this book from:
Powells | Indiebound*
Source: Publisher.
* These links are all affiliate links. If you buy your book here I'll make a very small amount of money that goes towards hosting, giveaways, etc.
Copyright protected by Digiprove © 2012