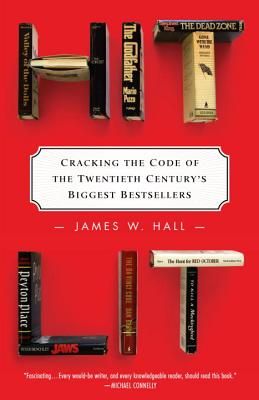 Hit Lit: Cracking the Code of the Twentieth Century's Biggest Bestsellers by James W. Hall
Published by Random House Trade Paperbacks, an imprint of Random House
One of the most frustrating things that can happen to a reader is to have a book you simply adore, that languishes on the shelf without sales, without critical reviews, without other readers. Wonderful books make evangelists of us, and when people eschew our recommendations in favor of the Next Hot Thing, it can be depressing, not least because we have no one with whom to discuss our love of our new favorite book. What is it that makes other readers skip over the lovely and moving book we are recommending in favor of the next The Da Vinci Code? In fact, why is The Da Vinci Code so popular in the first place?
Creative writing professor and thriller writer James W. Hall believes he can answer this very question. The success of The Da Vinci Code is no accident, in his mind. On the contrary, it shares a number of specific hallmarks with other books which have also become bestsellers. To illustrate just how bestsellers work, Hall presents case studies of twelve twentieth century (and technically one twenty-first century) megahits, showing how each of them work from some of the very same themes. The books in question are:
Gone with the Wind by Margaret Mitchell, 1936
Peyton Place by Grace Metalious, 1956
To Kill a Mockingbird by Harper Lee, 1960
Valley of the Dolls by Jacqueline Susann, 1966
The Godfather by Mario Puzo, 1969
The Exorcist by William Peter Blatty, 1971
Jaws by Peter Benchley, 1974
The Dead Zone by Stephen King, 1979
The Hunt for Red October by Tom Clancy, 1984
The Firm by John Grisham, 1991
The Bridges of Madison County by Robert James Waller, 1992
The Da Vinci Code by Dan Brown, 2003
It should be noted that these are either first novels or the author's breakout novel, it is not instructive to talk about The Runaway Jury or Clear and Present Danger, these books may have also been bestsellers, but they could sell on name recognition alone and may or may not contain the same elements, present in The Firm and The Hunt for Red October, which catapulted their authors to household names.
Although I was confident that Hit Lit would be instructive and interesting (I was right about this by the way, it is absolutely fascinating), I was somewhat worried about its appeal. In talking about what makes a best seller, would Hall be appreciated only by authors, reviewers, and industry insiders? Perhaps the greatest success of Hit Lit is that it does not fall into this trap of talking too much inside baseball. Although the above-mentioned groups would certainly be intrigued by Hit Lit, Hall approaches his subject in a way that makes it of interest to even the casual reader. Just why were you drawn to read everything that Grisham or King ever published? Hit Lit can help you answer that question.
Hit Lit is an endlessly fascinating look at some of the bestselling books of the last century, and how they got that way. Highly recommended.
Buy this book from:
Powells | Indiebound*
Source: Publisher.
* These links are all affiliate links. If you buy your book here I'll make a very small amount of money that goes towards hosting, giveaways, etc.
Copyright protected by Digiprove © 2012