Welcome to BOOK CLUB, which I run with co-conspirator Nicole from Linus's Blanket. Today we will be chatting about The Gods of Gotham by Lyndsay Faye, which was released on March 15th by Amy Einhorn/Putnam Books (twitter | facebook). For those of you reading this post, please remember that this discussion is likely to contain spoilers.
Here is the synopsis of the book I wrote for my review:
In 1845, New York is already full of Irish immigrants;. the Catholicism of most of the Irish did not sit well with the majority Protestant New Yorkers, so when the Great Potato Famine hits and an influx of immigrants promises to pour into the city, tensions rise to an all time high. On the surface, this would seem to be a good time for the city to add a police force, but such a move is not without controversy itself. New York's new police force is very much a part of the Democratic machine, which in turn relies on votes from the Irish, making many in the city – not least the powerful thugs and criminals – its natural enemies.

Although Timothy Wilde wants nothing to do with the Democratic party, he finds himself appointed to the police force by his older brother after a terrible fire takes both his home and his place of work. Although being a copper star doesn't really appeal to Tim, it seems that he is in the right profession when he literally stumbles across a case involving a murdered little Irish boy, a case Tim is determined to solve.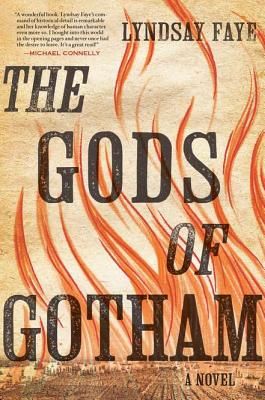 Before we get started, here are some of the reviews of readers who will be participating today:
4ever overhead
Beachreader
Between the Covers
CaribousMom
Devourer of Books
Karen White Audiobooks
Linus's Blanket
Must Read Faster

If you plan on participating in today's BOOK CLUB, please consider subscribing to comments at the bottom of the page (please use the TOP subscription option). I will be updating this post with new questions and ideas over the course of the day.
Here we go…
First off, what were your general impressions of the book?
Is this a book you would have read had you not been reading it for a book club?
How much did you know about mid-19th century New York and the Irish Potato Famine before beginning Gods of Gotham? What new things did you learn? What surprised you?
What do you think the title The Gods of Gotham refers to? Do you think it is a good title for the book?
Do you agree with the ways that Tim defines justice at the end of the book? Would you have made different decisions? Why do you think he took the routes he takes?
Copyright protected by Digiprove © 2012