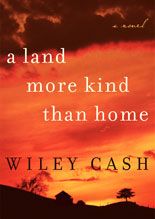 A Land More Kind Than Home by Wiley Cash , narrated by Lorna Raver, Mark Bramhall, and Nick Sullivan
Published in audio by Blackstone Audio; published in print by William Morrow, an imprint of HarperCollins

Synopsis:
From the publisher:
For a curious boy like Jess Hall, growing up in Marshall means trouble when your mother catches you spying on grown-ups. Adventurous and precocious, Jess is enormously protective of his older brother, Christopher, a mute whom everyone calls Stump. Though their mother has warned them not to snoop, Stump can't help sneaking a look at something he's not supposed to–an act that will have catastrophic repercussions, shattering both his world and Jess's. It's a wrenching event that thrusts Jess into an adulthood for which he's not prepared. While there is much about the world that still confuses him, he now knows that a new understanding can bring not only a growing danger and evil–but also the possibility of freedom and deliverance as well.
Thoughts on the story:
So, basically A Land More Kind Than Home is completely devastating. The reader has a better view of what is happening and why than the characters, but this never serves to lessen the suspense or the heartache. If anything, it makes Cash's story more completely gut wrenching. The narration is shared by three characters: Jess; Adelaide Lyle, the town midwife; and Clem Barefield, the sheriff. Each has painful secrets of his or her own, as well as a varying degree of understanding of just exactly what happened. Each of them is also an engaging and full-fledged character, whose point of view sheds more light on the community of Marshall, if not always on the tragic event that is tearing all of their lives apart.
Thoughts on the audio production:
The casting of three separate narrators, Lorna Raver, Mark Bramhall, and Nick Sullivan was a good decision. Each takes over the sections told from the point of view of a different character, and each manages to completely become the character in question. Sullivan in particular should be applauded for his depiction of Jess, a young boy. Narration of children is often difficult, but Sullivan manages to project a youthful sound, without resorting to falsetto or other obnoxious vocal tricks. Listeners won't actually confuse him for a child, but will be able to suspend disbelief and accept Sullivan as Jess.
For more on the audio production, please see my review for Audiofile Magazine.
Overall:
A Land More Kind Than Home is a beautifully painful debut novel that becomes even better with a stellar cast of narrators. Very highly recommended.
Buy this book from:
Powells: Audio/Print*
Indiebound: Audio/Print*
I'm launching a brand-new meme every Friday! I encourage you to review any audiobooks you review on Fridays and include the link here. If you have reviewed an audiobook earlier in the week, please feel free to link that review as well. Thanks to Pam for creating the button.
Source: Audiofile Magazine.
* These links are all affiliate links. If you buy your book here I'll make a very small amount of money that goes towards hosting, giveaways, etc.
Copyright protected by Digiprove © 2012