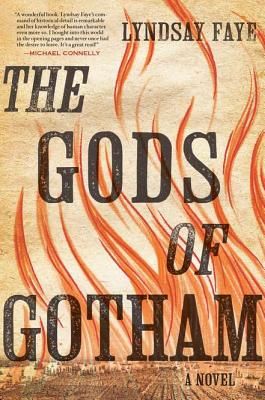 The Gods of Gotham by Lyndsay Faye
Published by Amy Einhorn/Putnam Books, an imprint of Penguin
Police reports are meant to read "X killed by Y by means of Z." But facts without motives, without the story, are just road signs with all the letters worn off. Meaningless as blank tombstones.
-Page 1
In 1845, New York is already full of Irish immigrants;. the Catholicism of most of the Irish did not sit well with the majority Protestant New Yorkers, so when the Great Potato Famine hits and an influx of immigrants promises to pour into the city, tensions rise to an all time high. On the surface, this would seem to be a good time for the city to add a police force, but such a move is not without controversy itself. New York's new police force is very much a part of the Democratic machine, which in turn relies on votes from the Irish, making many in the city – not least the powerful thugs and criminals – its natural enemies.
Although Timothy Wilde wants nothing to do with the Democratic party, he finds himself appointed to the police force by his older brother after a terrible fire takes both his home and his place of work. Although being a copper star doesn't really appeal to Tim, it seems that he is in the right profession when he literally stumbles across a case involving a murdered little Irish boy, a case Tim is determined to solve.
Faye excels at bringing history, mystery, and phenomenal writing together. She did so in her first novel, Dust and Shadow, and she has done so again with The Gods of Gotham. In Gods of Gotham the reader is fully immersed in mid-19th century New York, with racial, cultural, and political conflicts. Particularly good at setting the scene is Faye's masterful use of flash in the vocabulary of her characters. In order not to confuse her readers, Faye includes a dictionary of selected flash terms at the beginning of the book, as well as weaving explanations into the context of the story. It is impressive how she manages to do this without it seeming as if she is explaining what is being said on each and every page, but while still remaining true to her characters. As far as the mystery, Faye provides enough clues that a reader can begin to guess who might be involved and perhaps even why, but not so many that there are no surprises left during the climax. As for Faye's writing, her prose is beautiful and evocative, without getting in the way of the fascinating story she has to tell.
Mystery, history, and prose, The Gods of Gotham has everything. Highly recommended.
Buy this book from:
Powells | Indiebound*
Source: Publisher, for BOOK CLUB.
* These links are all affiliate links. If you buy your book here I'll make a very small amount of money that goes towards hosting, giveaways, etc.
Copyright protected by Digiprove © 2012