Welcome to Saturday Story Spotlight, my feature where I discuss books my husband and I are reading with our son, Daniel. These are books that he, we, or all of us particularly enjoy.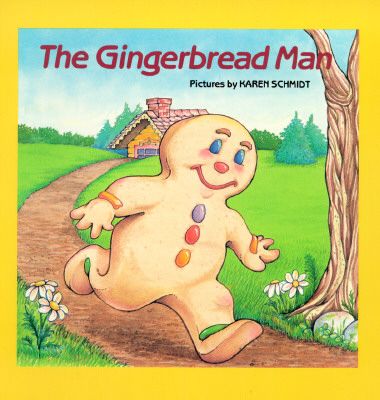 The Gingerbread Man illustrated by Karen Schmidt
Published by Scholastic Paperbacks, an imprint of Scholastic

I'm sure you all know the basics of this one: gingerbread man comes to life, taunts those who attempt to chase him, becomes over-confident, gets eaten by a fox.
We started reading this with Daniel around Thanksgiving and it became a favorite in no time and has been an oft-requested book for the entirety of winter (or what has passed for winter this year, anyway). Most of the time Daniel now "reads" this to us, at the very least reciting the gingerbread man's lines "Run, run, run, as fast as you can, you can't catch me I'm the gingerbread man!" Actually, he doesn't just recite those lines when we're reading the book, if he's running (particularly if he's running AWAY from us around the house) he is extremely likely to be shouting the same lines.
The predictive text in this book is great for a pre-reader like Daniel, but what is even better is how much it has captured his imagination.
Buy this book from:
Powells | Indiebound*
Source: Personal copy
* These links are all affiliate links. If you buy your book here I'll make a very small amount of money that goes towards hosting, giveaways, etc.
Copyright protected by Digiprove © 2012