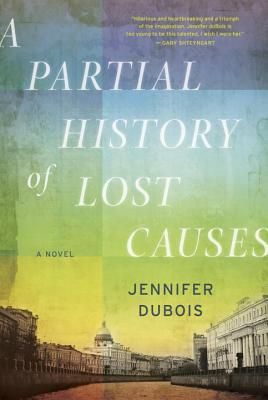 A Partial History of Lost Causes by Jennifer DuBois
Published by The Dial Press, an imprint of Random House
The highlight of Irina's young life was the day she finally beat her father at chess. What she didn't realize at the time, was that this loss signaled the beginning of his Huntington's disease-related decline. Even less did she understand that this was something that would some day happen to her as well. Now, as a scholar and casual chess player, there is little that bothers Irina more than the idea that she will slowly begin to lose her mind – something that, according to her genetic counselor, has a 50% chance of happening not long after her 30th birthday. In fact, she finds this so abhorrent that she welcomes the idea of a disease that might kill her faster, before she can lose her sense of self:
Please, please, please let me get AIDS so I can die of pneumonia, so my brain is the last thing out the door, so that when I die, it is actually me dying and not somebody else. –p. 24
Almost equally bad is the idea of putting her mother – and anyone else – through the pain and expense of dealing with her excruciatingly slow demise. When she inadvertently gets close to a man, she knows it is time to go.  Luckily for Irina, she has a place and a purpose in mind. Before he lost himself, Irina's father was a fan of chess and the Russian chess masters. He wrote a letter to the young man who would become the Grandmaster of chess, Aleksandr Bezetov, about the nature of imminent loss and received as a result a non-answer from a woman Irina presumes must have been Aleksandr's secretary. With nothing else in particular to live for, Irina travels to Russia in an attempt to track down Bezetov, who is now running for president against Putin, to see if there is anything else she can learn about her father or receive an answer to his question.
A Partial History of Lost Causes is told alternately from Irina and Aleksandr's viewpoints, a device method that works particularly well in this case. Although Irina's story covers only a short period of time in the present, Aleksandr's begins during the Cold War, when he moved to Leningrad to begin playing chess competitively. DuBois manages to develop both of her characters equally well, Irina by putting the reader directly in her fearful and haunted thoughts, and Aleksandr by showing the path his life took to get him to the point where he would run as an opposition candidate in a land where the opposition has no real chance to do anything other than perhaps be assassinated.
In A Partial History of Lost Causes, character, plot, and writing come together in a gorgeous and engrossing package. As a reader, you find yourself lost in the events that DuBois has strung together, invested in the lives of these two characters, both of whom face the possibility of death around every corner, and suddenly DuBois knocks you over with a sentence that is so striking, smart, and evocative that you must pause to read it over again and again.
The crowd had a surface-level patina of triumph, but there was a suggestion of submerged mania, too, as though they were just about to produce pitchforks and storm the Bastille. -p. 227
Added to all of this is the additional drama of modern Russian politics. As a member of an opposition party, Aleksandr believes that, in many ways, Putin's regime is no better than many of the oppressive Soviet-era regimes, even believing in the government's culpability in a number of alleged terrorist plots. For the majority of American readers who likely have little knowledge of current Russian politics, this may be a very intriguing subplot, one that will linger long after the book is over.
Highly recommended.
Buy this book from:
Powells | Indiebound*
Source: Publisher, via LibraryThing Early Reviewers.
* These links are all affiliate links. If you buy your book here I'll make a very small amount of money that goes towards hosting, giveaways, etc.
Copyright protected by Digiprove © 2012