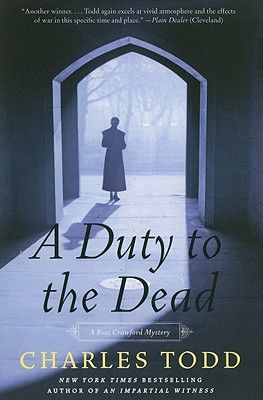 A Duty to the Dead by Charles Todd
Published by Harper Paperbacks, an imprint of HarperCollins
This is the first book in the Bess Crawford series.
As a nurse aboard a WWI hospital ship, Bess Crawford feels a duty towards her patients. Some more than others, of course. Arthur Graham was one such patient. Well loved not only by Bess, but by the entire hospital staff, Arthur was a man Bess could have pictured herself marrying – had only he survived. But even now that he is dead, Bess still feels that she must respect his final wishes and deliver a cryptic message to Arthur's brother Jonathan, "Tell my brother Jonathan I lied. I did it for mother's sake, but it must be set right." While delivering the message to the Grahams in Kent, Bess finds herself drawn first into two medical emergencies and then into the mystery of an old murder. All may not be as it seems at the Graham's estate.
In many ways, it is difficult not to draw comparisons between the Bess Crawford and Maisie Dobbs series. Both involve women who are or were WWI nurses, and both involve the solving of mysteries. Thus far, at least, Bess stumbles into her mysteries, instead of approaching them deliberately as Maisie does. In many ways, Bess is also more self-assured. Unlike Maisie she was born into the life of relative privilege and status she currently enjoys, and thus is not forced to work through the slightly angsty class mobility issues that Maisie has.
It is, of course, not fair to A Duty to the Dead to only compare it to another series, though, it must stand on its own. It does this quite well, really. The story moves along believably; it would have been easy for Bess's entry into the Graham family mystery to come off feeling contrived, but the events of the plot flow naturally and with the character traits that Todd establishes for Bess, it would have been less believable had she not gotten involved. The first books in long-running series occasionally suffer from too much desire on the part of the author to create the character and setting (I refer partly to Maisie Dobbs, the first book in the series of the same name, which almost failed to compel me to move ahead in a series I now adore), but Todd manages to work the setting and character development into the plot so that the story isn't bogged down in the service of the following books.
All in all, a strong and intriguing start to a new-to-me series. I can't wait to read the next one! Recommended.
Buy this book from:
Powells | Indiebound*
Source: Personal copy.
* These links are all affiliate links. If you buy your book here I'll make a very small amount of money that goes towards hosting, giveaways, etc.
Copyright protected by Digiprove © 2012