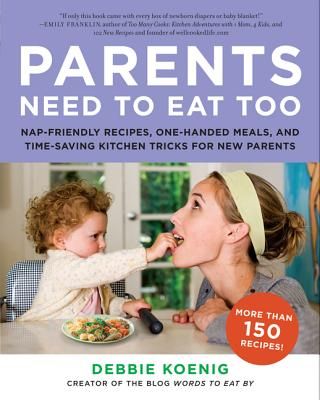 Parents Need to Eat Too: Nap-Friendly Recipes, One-Handed Meals, and Time-Saving Kitchen Tricks for New Parents by Debbie Koenig
Published by William Morrow Paperbacks

The time after a new baby enters the house is a tricky one for parents who want to eat something not originally from the freezer section of the grocery store. There's so much to do with an infant in the house and so much uncertainty about how and when to do it. It seems that things should get easier as the baby gets a bit older, but it isn't only infants who want to be held, to be able to see and touch whichever parent is attempting to prepare a meal. My son is 2.5, and it is really only recently that cooking has gotten fairly easy again, he's happy to sit and play with something in the next room while I prepare food, until then it could only happen easily if someone else was home to distract him. As I contemplate adding two more little ones to our household this summer, the idea of what on earth we're going to eat is in the forefront of my mind. I'm hoping to freeze a lot of things ahead of time, but that also requires us to get moved into a new house sooner rather than later and to get a large freezer that can hold all of these things. Plus, there are times when you just don't want one of the same old dishes you made a giant batch of and have had on rotation for weeks.
Enter Debbie Koenig's new cookbook: Parents Need to Eat Too.
Parents Need to Eat Too is a cookbook specifically designed for the parents of young children. There are extremely simple recipes, recipes already divided up for you for nap time prep, slow cooker recipes, meals you can easily eat with one hand, and recipes that promote lactation for mothers who are breastfeeding. Perhaps the most helpful aspects of the book, though, are Koenig's list of essential ingredients in the beginning (someone may get sent to the store with the book right before the twins arrive) and the tips on turning each and every recipe into baby food. Yes, you read that right, every recipe can be used as baby/toddler food. This, to me, was almost revelatory. We made most of Daniel's babyfood, but it was usually an all-day Saturday sort of thing, cooking and pureeing vegetable after vegetable and freezing them all. You know what is easier than that? FEEDING YOUR KID WHAT YOU ARE EATING. Not only does it simply involve a little extra prep time instead of getting something completely different, if you know you won't finish your leftovers, guess what? You can turn them into baby food and freeze them for later.
Another thing I appreciated about Koenig's book is the gustatory diversity. This is by no means a cookbook of casseroles. There are a number of Asian and Indian-inspired meals, such as the Chana Masala. Koenig freely admits that many of these recipes aren't particularly authentic, particularly since she is aiming for things that are fast and easy to make, but they are delicious. I made her fried rice last weekend, and I must say that it simply knocked the socks off my own version (it seems the delicious secret is sesame oil, yum!).
I think Parents Need to Eat Too (and maybe some of the dry ingredients from Koenig's list) would make a wonderful gift for a new parent, or really anyone with young children. Highly recommended.
If you need more convincing, here's Koenig herself talking about the book:
I also have one copy for a lucky reader with a US mailing address. This copy will be sent out by HarperCollins. Please enter on the form below by noon Eastern on Tuesday, February 28.
FORM
Buy this book from:
Powells | Indiebound*
Source: Publisher.
* These links are all affiliate links. If you buy your book here I'll make a very small amount of money that goes towards hosting, giveaways, etc.
Copyright protected by Digiprove © 2012