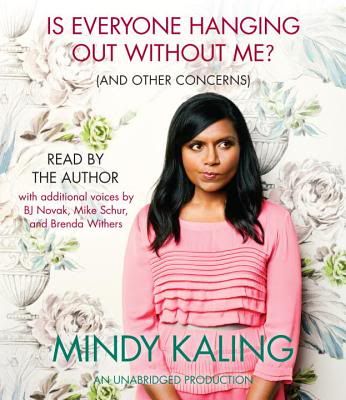 Is Everyone Hanging Out Without Me? (And Other Concerns) by Mindy Kaling, narrated by Mindy Kaling
Published in audio by Random House Audio, published in print by Crown, both imprints of Random House
Synopsis:
From the publisher:
Mindy Kaling has lived many lives: the obedient child of immigrant professionals, a timid chubster afraid of her own bike, a Ben Affleck–impersonating Off-Broadway performer and playwright, and, finally, a comedy writer and actress prone to starting fights with her friends and coworkers with the sentence "Can I just say one last thing about this, and then I swear I'll shut up about it?"

Perhaps you want to know what Mindy thinks makes a great best friend (someone who will fill your prescription in the middle of the night), or what makes a great guy (one who is aware of all elderly people in any room at any time and acts accordingly), or what is the perfect amount of fame (so famous you can never get convicted of murder in a court of law), or how to maintain a trim figure (you will not find that information in these pages). If so, you've come to the right book, mostly!

In Is Everyone Hanging Out Without Me?, Mindy invites readers on a tour of her life and her unscientific observations on romance, friendship, and Hollywood, with several conveniently placed stopping points for you to run errands and make phone calls. Mindy Kaling really is just a Girl Next Door—not so much literally anywhere in the continental United States, but definitely if you live in India or Sri Lanka.
Thoughts on the story:
While not quite as laugh-out-loud funny as Tina Fey's Bossypants – which Kaling herself references in the introduction – Is Everyone Hanging Out Without Me? is charming and extremely entertaining. Kaling is engaging, like spending time with a good friend who is willing to share anything and everything about herself, including embarrassing stories, like the time she stormed out of work like a spoiled child who didn't get her way.
Thoughts on the audio production:
Kaling's narration works extremely well. She has a distinctive style and delivery, and as an actress as well as a writer, she has a good command of language, which works to the benefit of the listener. What is not always as well done had more to do with production than narration. There is not always a great differentiation between chapters and sections in a book, occasionally to puzzling results. Longer pauses or some other method of noting a change in direction in the text would have put the audiobook into five star category.
Overall:
Kaling is charming, both in her writing and narration, although the production itself was perhaps not quite as well done as it could have been. Still, I would recommend this overall.
Buy this book from:
Powells: Audio/Print*
Indiebound: Audio/Print*
I'm launching a brand-new meme every Friday! I encourage you to review any audiobooks you review on Fridays and include the link here. If you have reviewed an audiobook earlier in the week, please feel free to link that review as well. Thanks to Pam for creating the button.
Source: Library.
* These links are all affiliate links. If you buy your book here I'll make a very small amount of money that goes towards hosting, giveaways, etc.
Copyright protected by Digiprove © 2012