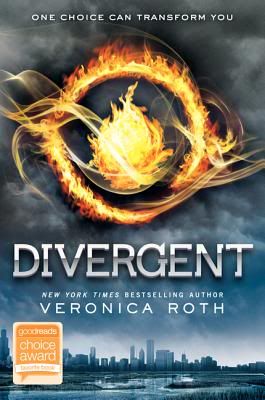 Divergent by Veronica Roth
Published by Katherine Tegen Books, an imprint of HarperCollins

Beatrice Prior – who will soon reinvent herself as Tris – has never really fit in with her faction. She is just not Abnegation material. Luckily, in just a couple of days she and all the other sixteen-year-olds in this dystopian future Chicago will have the opportunity to choose whether to stay in their factions or choose a new one from among the five in the city: Candor, Abnegation, Dauntless, Amity, and Erudite. Leaving Abnegation would mean that Beatrice would have to leave her family behind forever, but staying would mean not being true to herself. Unfortunately, Beatrice isn't any more sure about where it is that she does belong. Not Erudite, not after the lies they have spread about the people of Abnegation, and probably not Candor – only ever telling the truth isn't particularly appealing – but where? Sixteen-year-olds are given a test to help them choose their placement, but Beatrice's test is strangely inconclusive, a fact that she is warned to keep to herself.
Divergent is a much-raved about YA dystopian novel. I found it enjoyable, but perhaps not as fabulous as everyone else seems to think it is. Roth is an incredibly engaging writer, and Tris is a great character, surrounded by other great characters. My only real problem was with the premise. The factions seem to have no idea what is happening in the world around them, for all intents and purposes the universe is no bigger than the greater Chicago area. Less believable, though, is the idea of the factions in the first place.
Dystopian societies often have odd and somewhat unlikely governments and structures. The best novels, though give their odd structures a believable background. Either there needs to be a reasonable explanation for how they came to be, or they need to follow somewhat from the current state of the world. The factions of Divergent didn't really do either. They provide a very interesting set-up to the story, yes, and they allow for great commentary on human nature, but I simply could not see where they came from.
All this being said, Divergent is highly engaging, enough so that I do plan on reading the sequel, Insurgent, which is out later this year, in order to see if the world building is further developed.
Buy this book from:
Powells | Indiebound*
Source: Library.
* These links are all affiliate links. If you buy your book here I'll make a very small amount of money that goes towards hosting, giveaways, etc.
Copyright protected by Digiprove © 2011