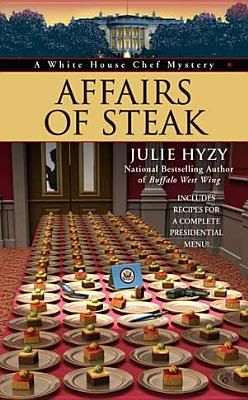 Affairs of Steak by Julie Hyzy
Published by Berkley, an imprint of Penguin
This is the fifth book in the White House Chef series. I have previously reviewed the first four books: State of the Onion, Hail to the Chef, Eggsecutive Orders, and Buffalo West Wing.
Having to scope out party locations with White House Sensitivity Director Peter Everett Sargeant doesn't rank particularly high on Olivia's list of best ways to spend a day. Actually, it is more likely to fit in as one of her personal circles of hell. Sargeant has, after all, had it in for Olivia ever since he began work at the White House. Olivia's bad day only gets worse when she and Sargeant arrive at the First Lady's preferred location for the party and find two fellow White House staffers already there – dead. Not only is Olivia back in the middle of another White House mystery, this time she's stuck investigating with Peter Everett Sargeant.
Another fun book from Julie Hyzy! I didn't enjoy this one quite as much as Eggsecutive Orders and Buffalo West Wing, but that seems to have more to do with the fact that I read those three in quick succession and just needed to space them out a bit more. I love that Hyzy is continuing to keep this series fresh by changing up how and where Olivia investigates the various crimes that come across her path. Teaming up with Sargeant is certainly not a plot point I ever imagined seeing.
Okay, everyone, I've spent the last year recommending Julie Hyzy, and this series in particular, to you. If you haven't read it yet, why not?
Buy this book from:
Powells | Indiebound*
Source: Personal copy.
* These links are all affiliate links. If you buy your book here I'll make a very small amount of money that goes towards hosting, giveaways, etc.
Copyright protected by Digiprove © 2012