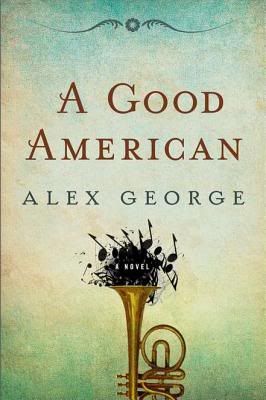 A Good American by Alex George
Published by Amy Einhorn/Putnam Books, an imprint of Penguin
Jette's mother is determined that her daughter will be the family's ticket into higher society, marrying up and bringing connections. The large-boned Jette is not a traditional beauty, though, and she has no particular interest in playing a society girl. That is not to say that nobody is interested in her, however. Unfortunately, her suitor, Frederick, is not a man whose social status her mother does not deem appropriate. When Jette ends up pregnant and scorned by her mother, she and Frederick decide to head to America to create a new life in the early years of the 20th century.
A Good American is narrated by Jette and Frederick's grandson, and follows the family from their trip from Germany to Missouri, and through the next two generations of the family. George has written a beautiful and frequently heart-wrenching account of an immigrant family as they adapt to life in America. Particularly interesting is the Americanization the family goes through as Germany becomes an enemy of their adopted country during the Great War. Indicative of the way the family and the community and country around them changes over the course of the century is the food served at the family's restaurant. That, as well as the fate of the family, is a wonderfully rich symbol of the way the family assimilated as well as the way the country continued to change.
Readers will become immersed in the life the family, invested in their futures, in their pain and in their problems. A Good American does, however, fall just short of being a perfect book. George has a tendency to be a bit heavy-handed with foreshadowing, with the end of many chapters setting up an event in the next chapter, or the one following it in a way that lets the reader know a bit too clearly that something bad is going to happen. These sentences tended to draw me out of the family's lives, without adding much to the story, and perhaps even taking away from the surprise the events might otherwise have held. Still, this amounts to little more than a handful of sentences in a book of nearly 400 pages, and, at least in my case, does not significantly decrease enjoyment of the book, nor does it detract from investment in the family.
A Good American is a wonderful book about family, America, and the immigrant experience. Despite a bit too much foreshadowing, I highly recommend it.
Buy this book from:
Powells | Indiebound*
Source: Publisher.
* These links are all affiliate links. If you buy your book here I'll make a very small amount of money that goes towards hosting, giveaways, etc.
Copyright protected by Digiprove © 2012