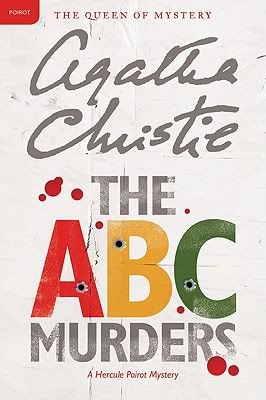 The A.B.C. Murders by Agatha Christie
Published by Harper Paperbacks
From the publisher:
There's a serial killer on the loose, working his way through the alphabet and the whole country is in a state of panic.

A is for Mrs. Ascher in Andover, B is for Betty Barnard in Bexhill, C is for Sir Carmichael Clarke in Churston. With each murder, the killer is getting more confident—but leaving a trail of deliberate clues to taunt the proud Hercule Poirot might just prove to be the first, and fatal, mistake.
For the first time EVER while reading a Christie mystery I figured out the identity of the murderer, and quite a way before the end of the book, at that. What I can't figure out is whether this is a great accomplishment on my part, or a failing on Christie's. To me, the murderer was obvious from a great way off, and the very serious red herring she threw in the reader's path not at all convincing – until nearly the end of the book when it very nearly was, but even then it was too obvious to be the real answer. If pressed for a decision, I would say that perhaps The A.B.C. Murders is not Christie's most strongly constructed book, but I have also read a great many of her books this year, and in other circumstances might not have guessed the culprit so quickly.
For all the Christie I've read, this was only my second experience with Poirot, the first being Three Act Tragedy, which, coincidentally, shared some essential plot similarities with The A.B.C. Murders, despite the visible differences. I do think this is a better example of a Poirot mystery, in Three Act Tragedy he took a much smaller role, compared with the persons most directly affected by the crime. In The A.B.C. Murders Poirot is right in the thick of the action. As much as I typically read the standalones, I did enjoy this experience with Poirot.
The A.B.C. Murders is a solid book from Agatha Christie, and a good example of a Poirot book, but if you've spent too much time immersed in her work, you're likely to guess the identity of the murderer disturbingly early.
Buy this book from:
Powells | Indiebound*
Source: Publisher.
* These links are all affiliate links. If you buy your book here I'll make a very small amount of money that goes towards hosting, giveaways, etc.
Copyright protected by Digiprove © 2012