It is that time again! We are gearing up for this month's discussion of Running the Rift by Naomi Benaron (Tuesday, January 31, right here), but it is also time to give away next month's BOOK CLUB selection. In February we will be reading an offering from Riverhead Books, Forgotten Country by Catherine Chung (release date: March 1).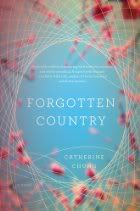 We will be discussing Forgotten Country on Tuesday, February 28th on Nicole's blog.
From the publisher:
On the night Janie waits for her sister, Hannah, to be born, her grandmother tells her a story: Since the Japanese occupation of Korea, their family has lost a daughter in every generation, so Janie is charged with keeping Hannah safe. As time passes, Janie hears more stories, while facts remain unspoken. Her father tells tales about numbers, and in his stories everything works out. In her mother's stories, deer explode in fields, frogs bury their loved ones in the ocean, and girls jump from cliffs and fall like flowers into the sea. Within all these stories are warnings.

Years later, when Hannah inexplicably cuts all ties and disappears, Janie embarks on a mission to find her sister and finally uncover the truth beneath her family's silence. To do so, she must confront their history, the reason for her parents' sudden move to America twenty years earlier, and ultimately her conflicted feelings toward her sister and her own role in the betrayal behind their estrangement.

Weaving Korean folklore within a modern narrative of immigration and identity, Forgotten Country is a fierce exploration of the inevitability of loss, the conflict between obligation and freedom, and a family struggling to find its way out of silence and back to one another.
If you would like to be considered as a participant for February, please fill out the form below by noon Eastern on Tuesday, January 17th. Your mailing address will be discarded if you aren't selected to participate and used to mail you the book if you are. I do not share or retain any personal information. Only those selected will be contacted by email.
Copyright protected by Digiprove © 2012