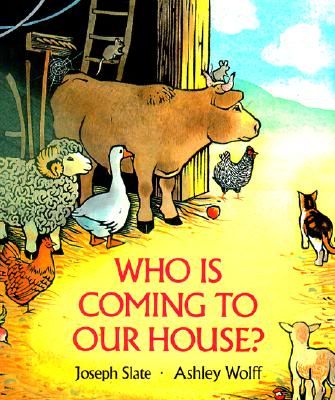 Welcome to Saturday Story Spotlight, my feature where I discuss books my husband and I are reading with our son, Daniel. These are books that he, we, or all of us particularly enjoy.
Who is Coming to Our House? by Joseph Slate, illustrated by Ashely Wolff
Published by Putnam Books for Young Readers, an imprint of Penguin

It is a special night in the barn. The animals are abuzz with excitement about the special guest who is coming ever closer. "Who is coming to our house?" they ask mouse, in wonder, "Someone, someone" he replies. So of course the animals must get ready for their special guest, sweeping the floor, lining to manger with eider, anything they can do to make the barn comfortable. Finally, of course, Mary and Joseph show up, and in the end, so does the baby Jesus.
Who is Coming to Our House? is a very cute book, an early introduction for young children to the Christmas story. Having the story come from the perspective of the animals lends an extra degree of interest for kids. Daniel yells "look, mommy!" on basically every page. This is clearly not theologically deep, but it is a good opening for parents to explain a bit about the Christmas story. I do wish the lines scanned a bit better, however. The animals are called mouse, cow, etc, but I find myself wanting to read them as THE mouse, THE cow for them to flow better.
Over all, a good religious Christmas book for young children.
Buy this book from:
Powells | Indiebound*
Source: Personal copy
* These links are all affiliate links. If you buy your book here I'll make a very small amount of money that goes towards hosting, giveaways, etc.
Copyright protected by Digiprove © 2011