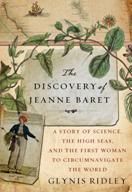 Yesterday a book was released that I'm really, really excited about. I'll be reading it over the next few months, but I wanted to go ahead and offer a giveaway for you Right. Now. Here's the description from the publisher:
The year was 1765. Eminent botanist Philibert Commerson had just been appointed to a grand new expedition: the first French circumnavigation of the world. As the ships' official naturalist, Commerson would seek out resources—medicines, spices, timber, food—that could give the French an edge in the ever-accelerating race for empire.

Jeanne Baret, Commerson's young mistress and collaborator, was desperate not to be left behind. She disguised herself as a teenage boy and signed on as his assistant. The journey made the twenty-six-year-old, known to her shipmates as "Jean" rather than "Jeanne," the first woman to ever sail around the globe. Yet so little is known about this extraordinary woman, whose accomplishments were considered to be subversive, even impossible for someone of her sex and class.

When the ships made landfall and the secret lovers disembarked to explore, Baret carried heavy wooden field presses and bulky optical instruments over beaches and hills, impressing observers on the ships' decks with her obvious strength and stamina. Less obvious were the strips of linen wound tight around her upper body and the months she had spent perfecting her masculine disguise in the streets and marketplaces of Paris.

Expedition commander Louis-Antoine de Bougainville recorded in his journal that curious Tahitian natives exposed Baret as a woman, eighteen months into the voyage. But the true story, it turns out, is more complicated.
I have two copies available for readers with US and Canadian mailing addresses. To enter, please fill out the form below by 11:59pm Central on Wednesday, December 14th.
Copyright protected by Digiprove © 2011